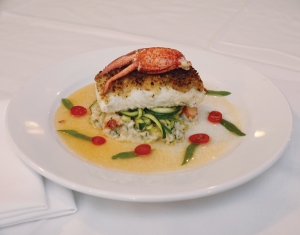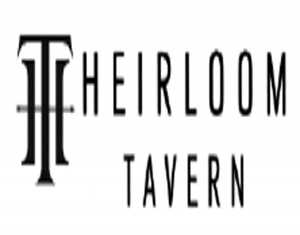 Heirloom Tavern
32 Railroad Avenue GLEN HEAD
Web:
HeirloomTavern.com
Phone:
516-686-6633
Ingredients:
4pc. 6-8 oz. Halibuts Filets
2pc. 1-1/4 lb Lobsters
1 cup Arborio rice
3 cups Lobster stock/chicken or vegetable will work as well
2Tbl. Butter
1/4 cup Heavy Cream
2Tbl. Parmesan Cheese grated
3pc. Large/Ripe Beefsteak Tomatoes
2pc. Medium Zucchini
Sliced Thin
2pc. Shallots finely chopped
3 cloves garlic 
finely sliced
1 bunch tarragon
1/2 cup panko 
breadcrumbs
1/2 cup Pignoli or pine nuts
1/2 cup olive oil
Salt & Pepper
Method: 
Bring a large pot of water to a boil.  Add the lobsters and cook for 7 minutes.  Remove from water and place in ice water to stop them from cooking.  Remove the meat from the claws, tail and knuckles.  At this point you can use the shells to make a lobster stock if time permits but a good quality chicken or vegetable stock will work just fine for the risotto.
Preheat your oven to 425°.  Cut the tomatoes in 1/4.  
Toss with 2Tbl. Olive oil and season with salt and pepper.  Place in a pan and roast for 20 minutes.  Remove the tomatoes and place in a fine sieve over a bowl containing the tarragon and lobster claws.  You can press the tomatoes gently to extract the maximum amount of juice.  You will be using this juice for the finishing broth.  Keep warm.
In a medium sauce pot start to melt the butter. In a separate pot bring the stock to a simmer.  Add chopped shallots to butter when it begins to foam.  Sauté for 2 minutes then add the rice.  Stir with a wooden spoon and coat the rice.  At this point add 1/3 of the stock to the rice constantly stirring.  Once the rice has absorbed most of the stock add another 1/3 still stirring.  Continue to add more stock letting it absorb into the rice until it is al dente.  Chop the lobster tails and knuckles and add to rice along with cream, parmesan and season with salt and pepper.  Your risotto should be the consistency of loose oatmeal. Keep warm.
In a food processor add panko, Pignoli nuts, salt and pepper.  Blend for 20 seconds and reserve on the side.
Heat a 10" heavy bottom sauté pan on medium high heat.  Pat the halibut filets with a paper towel to remove any moisture.  Season with salt and pepper.  Add 2Tbl. Olive oil in the pan and add halibut.  Sear on medium high heat for about four minutes or until golden on the bottom side.  Flip with a spatula and shut off the heat.  Drizzle a little olive oil on the filets and add Pignoli mixture on each enough to coat and pat down.  Place pan in the oven and continue to cook for approximately 5 minutes.  It is very important not to over cook halibut or any fish for that matter.  I found the best way to check the doneness is to insert a small paring knife into the center of the filet.  Pull it out and place under your lower lip.  If it is warm, it is done. Cool, it needs a little longer.
Remove the fish from sauté pan and place pan back on medium heat with 2tbl Olive oil and sliced garlic.  Cook the garlic until it begins to brown and add the zucchini.  Season with salt and pepper and cook until the zucchini begins to soften.  Remove from heat.
Plating:
Divide the risotto between four plates placing in the middle.  Place the zucchini on top of the risotto.  Place the fish on zucchini and top with lobster claw.  Pour about 2 oz. of tomato broth on each plate.  You can garnish the plate additionally with tarragon leaves and sliced cherry tomatoes.  Enjoy!
       Serving up delicious fare within a warm and inviting atmosphere, Glen Head's own Heirloom Tavern has been met with rave reviews since its chef and owner, Kent Monkan, opened the gastropub in 2013. The lively hotspot 
of Long Island evokes an English spirit in its décor, and offers a diverse menu with creations that appeal to all palates.
       Born and raised in Huntington, Chef Monkan grew up with a taste for quality cuisine and tradition, sourcing inspiration from his grandparents' generation. He went on to pursue his love for cooking with an education at the Culinary Institute of America, followed by prestigious placements at top restaurants including Panama Hatties. Carrying a recipe for success, Kent decided to exercise his vision with the opening of The Brass Rail, known for being a neighborhood hit in Locust Valley. With the Heirloom Tavern, Kent recreated his signature concept with the same essential components that make the locale a true gastropub- great food at affordable prices.
       A far cry from the anti-substitutions policy rigidly imposed in many restaurants, Chef Monkan invites his diners to enjoy a custom experience where they may create their own plates, mixing and matching side dishes with entrees. The menu features hard-to-resist bar plates and entrees with a flair for comfort within sumptuous items like filet mignon sliders and pan roasted Long Island duck breast. For those with dietary restrictions or health concerns, Chef Monkan offers delightful selections made up of artfully created salads and sandwiches, as well as savory side dishes that include grilled asparagus and wilted spinach. 
       If the present is any indication, true to its name, the Heirloom Tavern is a dining destination that is here to stay for generations to come.