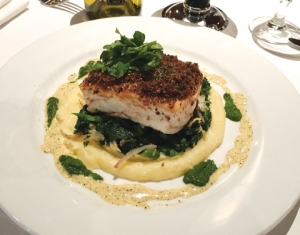 Brass Rail
107 Forest Avenue LOCUST VALLEY
Web:
thebrassraillocustvalley.com
Phone:
516-723-9103
Ingredients:
4 -8oz Halibut Filets
1/4 Cup Pitted Oil Cured Black Olives
1/4 Cup – Panko
1 Tsp. Fresh Thyme Chopped
1 Tbsp. Olive Oil
Salt & Pepper
1 lb. – Peeled and Chopped Celery Root
1 lb. Peeled & Chopped Yukon Gold Potato
1/2 Cup Whole Milk
2 oz. Butter
1 tsp. Salt
1 Bunch Broccoli Rabe (Cleaned & Blanched)
1 Piece Shallot Sliced Thin
1 Clove Garlic Chopped
2 Tbsp. White Wine
1 Tbsp. Olive Oil
Salt & Pepper
2 Pc. Egg Yolk
1 Tbsp. Fresh Lemon Juice
8 oz. Butter
2 Dashes Tabasco Sauce
1 Tbsp. Chopped
Black Truffles
Salt & Pepper

Method:
Fish: Chop the black olive fine & blend with panko & thyme. Preheat oven to 375˚ F.  Get a large sauté pan hot over medium heat & add 1 Tbsp. olive oil.  Dry the halibut with a paper towel.  Season the fish with salt & pepper and place in the hot pan.  You should hear a sizzle but it should not be smoking.  Sear the fish for approx. 4 – 5 minutes.  Gently turn the fish over & shut off the heat.  Sprinkle the olive & panko mixture evenly over each filet making sure to coat the entire filet.  Place the pan with the fish in the oven for 5 – 8 minutes depending on the thickness of the filet.  The best way to tell if a piece of fish is ready is to insert a cake tester or a thin knife into the center of the fattest part of the filet.  Pull it out & place under your bottom lip.  If it is warm it is done, if cool give it another minute or two.  It is very important not to overcook fish, especially a lean expensive fish like halibut. 
Celery Root:    Place the potatoes & celery root in a medium pot covered with water & 1 tsp. of salt on medium high heat. Cook until quite tender & drain.  Warm the milk & butter in the same pot you cooked the potatoes & celery root in.  Puree the celery root & potatoes in a food mill or mash really well while hot.  Slowly add the milk & butter to the puree until smooth & creamy.  Taste & season with salt & pepper if necessary.
Broccoli Rabe: Heat a large sauté pan over medium heat & add 1 Tbsp. olive oil.  When hot add shallots & garlic & cook for one minute until aromatic.  Add broccoli rabe & toss in the pan occasionally for 5 minutes.  Add the white wine & season with salt & pepper.  Cook for an additional three minutes then remove from heat.
Hollandaise: Place egg yolks, lemon juice, and tobacco in a blender.  Bring the butter to a boil.  Put the blender on the slowest speed and while the butter is still hot, slowly add it to the blender while on in a SLOW STEADY STREAM.  The sauce should be quite thick.  Season with salt and pepper and add chopped black truffles.
       When the New York Times visited Ken Monkan's celebrated gastropub, The Brass Rail, the headline read, "The Bar's Gorgeous; The Food's Even Better". Long Island diners have long echoed this sentiment; the elegant décor and rich history of this Locust Valley treasure is surpassed only by the cuisine of its creative executive chef.
       From an early age, Chef Ken Monkan's imagination has seen no bounds or limits in the ways he could whip up a savory feast. A graduate of the Culinary Institute of America with a seasoned and illustrious background, his cuisine is approachable and unpretentious, preserving an emphasis on succulent fare paired with quality ingredients. Inhabiting the principle of
giving the people what they crave, and doing so in a warm atmosphere, Chef Monkan has perfected the formula in his restaurants at The Brass Rail and Heirloom Tavern.
       Amidst the romantic sconces and inviting aura of The Brass Rail, one cannot help but take notice of the undeniably charming antique bar that has served as inspiration for the restaurant's namesake. A true treat for the senses, guests get a taste for its abundant history alongside their delectable courses and extensive international wine list.
       Diners of The Brass Rail often find themselves in the ultimate predicament; with a menu that reads baiting temptation with every dish, first-time patrons quickly become regulars, eager to taste it all.  Fortunately, the restaurant's philosophy appeals to the foodie at heart. With a vast array of bar bites, small plates, entrees and more, at a modest price point to boot, this is one destination that is perfect for every occasion.