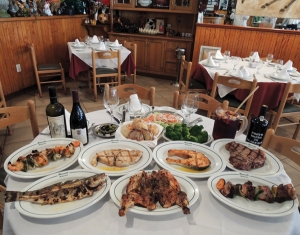 Churrasqueira Bairrada
144 Jericho Tpke. MINEOLA
Web:
www.churrasqueira.com
Phone:
516-739-3856
This recipe can be adapted for Salmon or Branzino.
Swordfish Filet (about 1 pound), cleaned
Extra-virgin olive oil
Coarse salt 
Freshly ground pepper, to taste
1 lemon, plus wedges for garnish
Preparation:
Rub fish with some of the oil, and season with salt and pepper. 
Preheat grill to medium. (If you are using a charcoal grill, coals are ready when you can hold your hand 5 inches above grill for just 5 or 6 seconds.) 
Place fish on grill rack, and cook, flipping once, until opaque, 5 to 6 minutes per side.
Lemon Butter Sauce:
1/4 cup fresh lemon juice
1/8 cup water
1/4 cup (1/2 stick) cold unsalted butter, cut in 
1/4-inch pieces
1/2 tbsp chopped parsley
Salt to taste
Preparation:
Combine water and lemon juice into a small saucepan. Bring to a boil over medium heat, and reduce by half. Turn the heat down as low as possible. Add a few pieces of the cold butter and whisk vigorously, until the butter blends into the sauce. Add a few more pieces of butter, and repeat. When half the butter has been whisked into the sauce, turn off heat, and whisk in the rest. Add parsley, and season with salt to taste. Pour the sauce over the grilled Swordfish and serve with lemon wedges for squeezing.
We recommend you buy the fish and charcoal from Carvalho Imports, 42 East 2nd Street, Mineola, NY.  516-280-2697.
Manny Carvalho always had two dreams: come to the United States and open his own restaurant.  The Portuguese born restaurateur worked for 19 years in other people's eating places in his native land.  For seven of those years he flipped barbecue chickens over a hot grill, then he was a bartender for two years and a waiter for ten more before coming to these shores in 1984.
He spoke no English and had virtually no money.  He got a job as a construction worker days but at night he returned to his first love as a part time bus boy and waiter.  Gradually he learned English by listening to Americans speak and saved enough money to open a modest little storefront, Portuguese barbecue spot in 1993.  It was as much a take out with a counter as a restaurant.  But when The New York Times discovered it and called the barbecued chicken the best on Long Island, foodies from all over Nassau/Suffolk descended on his little Willis Avenue, Mineola business.  Mr. Carvalho expanded his operations once or twice and then moved into his present quarters, a 100 plus seat restaurant around the corner on Jericho Turnpike.  Manny's wife Jackie and her two sons, Armando and Hector now help run the restaurant and their retail wholesale Portuguese store, Carvalho Imports, also in Mineola.  Armando who is financial advisor, has a degree in computer engineering and software science, and Hector, who's the general manager, has a degree in chemical engineering.   
Mr. Carvalho's philosophy has remained the same throughout all the years and expansions. "To do what is best for the customer, to try my best to keep a balance between price, quantity, cleanliness and freshness."  He puts special emphasis on the last, continuing to search for sources that offer the freshest, highest quality ingredients, especially chickens because that's still what most of his customers like best.  So does he.  When asked about which of his dishes he prefers he unhesitatingly replied, "The chicken, of course."