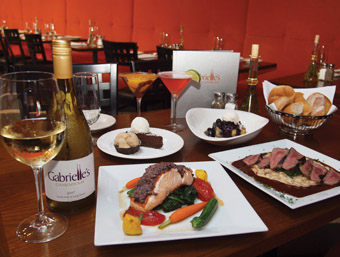 Four 6-8 oz. salmon fillets
1 cup pitted kalamata olives, pureed
1 cup panko
1 stick butter
1 tsp. chopped garlic
2 tsp. chopped shallots
1 Tbsp. fresh herbs, such as, thyme; oregano; sage; rosemary
Salt & pepper to taste
2 oz. olive oil

In the bowl of an electric mixer, put olive puree, butter, garlic, shallots and herbs and mix well.
Add panko and continue to mix until well incorporated. Transfer to small bowl and refrigerate until firm.
In a non-stick saute pan heat the oil. Place the salmon filets in the pan, flesh side down.

Cook about three minutes, and turn fillets over.
Let cook two minutes more and remove to a baking pan.
Spread the olive mixture onto the salmon and place in a 375* oven for about 8 minutes or until cooked through.
Serve with preserved tomatoes, sauteed spinach, and a variety of roasted baby vegetables.
When Rosanne Scordio found a restaurant for sale, she bought the business (and the building) and created Gabrielle's, named for the youngest and only girl of her six children. Rosanne's experience with fine cuisine began when she helped open a gourmet shop in 1983. She left to raise her family, but ultimately couldn't resist her calling and went out on
her own. She called upon acclaimed restaurateur and consultant Tom Schaudel who "brought more than 35 years of successful restaurant experience" to the brasserie. Rosanne serves as a trustee of the Family and Children's Association, where she devotes her time and really sees the changes she is making. In the restaurant business, the results need to be just as tangible, and her continued success is evident in her customers' satisfaction.

Much of that success hinges on Executive Chef Michael Ross and his eclectic menu. Michael attended Southampton College to study marine biology. "I was determined to make my own way," he says, "so my first summer I took a job as a dishwasher in a hotel kitchen." By day two of my restaurant career," he explains, "I was a cook." Michael discovered he was a natural and that he really enjoyed what he was doing. By the end of that first summer, he had worked his way up to sous chef. A year and a half later, Michael left Southampton to enroll at the CIA. Upon graduation, he worked in eateries across America and later opened two restaurants on Long Island before taking over the kitchen at Gabrielle's. "Cooking is a very personal thing," he explains. "It creates a special bond with the diner. Chefs give a little bit of themselves with every dish they serve."