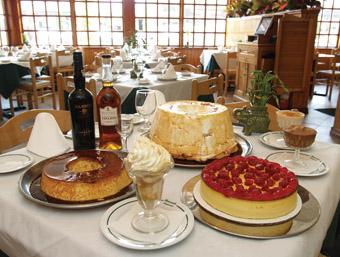 Churrasqueira Bairrada
144 Jericho Tpke. MINEOLA
Web:
www.churrasqueira.com
Phone:
516-739-3856
20 egg whites
2 cup sugar

Preparation:
Beat egg whites and sugar until they form stiff peaks.
Bake for 5 minutes at 280 degrees.


Natas do Ceu

Ingredients:

20 egg whites
1 cup sugar
2 quarts
heavy cream
1 package
of caramel
1 package of vanilla cookies

Preparation:
Mix egg whites, heavy cream and sugar together.

Beat mixture for a few minutes until it is a good consistency.
Break cookies into a powder.
Pour a layer of cookies, caramel, then cream into cups.
Finish with cookies on top.

Put in refrigerator for at least 1 1/2 hours before serving.

Enjoy!
Manny Carvalho always had two dreams: come to the United States and open his own restaurant. The Portuguese born restaurateur worked for 19 years in other people's eating places in his native land. For seven of those years he flipped barbecue chickens over a hot grill, then he was a bartender for two years and a waiter for ten more before coming to these shores in 1984.

He spoke no English and had virtually no money. He got a job as a construction worker days but at night he returned to his first love as a part time bus boy and waiter. Gradually he learned English by listening to Americans speak and saved enough money to open a modest little storefront, Portuguese barbecue spot in 1993. It was as much a take out with a counter as a restaurant. But when The New York Times discovered it and called the barbecued chicken the best on Long Island, foodies from all over Nassau/Suffolk descended on his little Willis Avenue, Mineola business. Mr. Carvalho expanded his operations once or twice and then moved into his present quarters, a 100 plus seat spot around the corner on Jericho Turnpike. His now 34 year old son, Roy, joined him about 15 years ago and now manages Churrasqueira Bairrada Rodizio on a day to day basis.

Mr. Carvalho's philosophy has remained the same throughout all the years and expansions. "To do what is best for the customer, to try my best to keep a balance between price, quantity, cleanliness and freshness." He puts special emphasis on the last, continuing to search for sources that offer the freshest, highest quality ingredients, especially chickens because that's still what most of his customers like best. So does he. When asked about which of his dishes he prefers he unhesitatingly replied, "The chicken, of course."