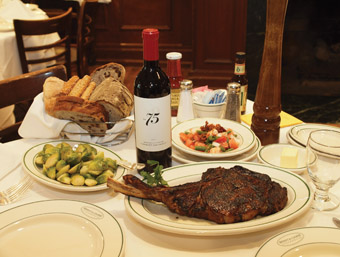 Bryant & Cooper
2 Middle Neck Road ROSLYN
Web:
www.bryantandcooper.com
Phone:
516-627-7270
Chopped Salad:
(serves 4)
12 Jumbo shrimp, boiled (chopped into 1/2" pieces)
3 Cups String beans, cooked (chopped into 1" pieces)
4-5 Beefsteak
tomatoes (chopped into 1/2" pieces)
1 Onion (chopped into 1/4" pieces)
6 Strips Pimento, minced
8 Strips bacon cooked and
crumbled
1/4 Cup red vinegar
1/4 Cup olive oil
In a large bowl mix shrimp, string

beans, tomatoes, onions and pimento
together. Then add red vinegar and olive oil mix well. Seasoned with salt and pepper to taste. Toss and serve
with slotted spoon to drain. Top with crumbled bacon.

Ribeye Steak:
#1 USDA Prime Dry Aged steak from the
Bryant & Cooper
Butcher Shop.
Season with
salt and pepper.
Put on grill till
it reaches desired
temperature.

Brussels Sprouts:
(serves 4)
2 cups Brussels sprouts, trimmed and halved
lengthwise
3 oz. whole butter
salt and pepper
to taste

Blanch halved sprouts in salted water until tender.
Melt butter in saucepan over medium heat.
Add Brussels sprouts, salt and pepper.
Sautee in butter until slightly browned.
Gillis and George Poll own and operate upscale restaurants including Bryant & Cooper Steak House in Roslyn, Toku, a stylish Asian beauty and Cipollini, the exciting trattoria, both in the Americana Manhassett, and Majors in Woodbury and East Meadow, casual steak houses that are upbeat and comfortable.
Bryant & Cooper, one of the Great Steak Houses of America and a legend on Long Island, sets the standard for the finest quality hand selected aged steaks, chops and jumbo lobsters.
The classic steak house ambiance makes you feel like you're a part of a special private club.
Over the years, they have received rave reviews from The New York Times, which proclaimed Bryant & Cooper as the "best steak house on Long Island." They've earned praises by Newsday, Long Island Business News, GQ, Nation's Restaurant News and other prestigious publications, and done many TV appearances including the CBS Morning Show, NBC Weekend Today in New York and News Channel 12 on Long Island.
The Polls' experience in the restaurant business began at Pappas of Sheepshead Bay, the famed Brooklyn seafood house their father James bought in 1960. Gillis began working there at age 12, but his interest piqued later as the industry became more creative. He partnered with his brothers to open their first restaurant, Pappas in Williston Park, when he was 27. Middle brother Dean was 22 and George only 17, making him a restaurant owner before he entered Boston University. Dean now operates their first eatery, since renamed Riverbay.
Gillis and George are currently refurbishing the historic George Washington Manor, which they purchased last year, where they offer unique catering services. They are also currently creating a hip new bistro, Bar Frites, in Greenvale's Wheatley Plaza.