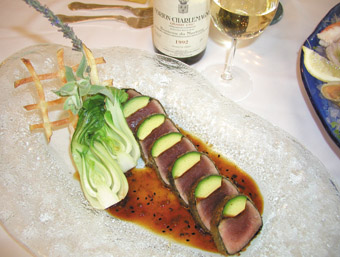 Palm Court
PALM COURT at The Carltun Eisenhower Park EAST MEADOW
Web:
www.thecarltun.com
Phone:
516-542-0700
6 oz. yellow fin tuna
1/4 avocado
1 seaweed sheet
Salt/pepper
1/2 of one lemon
1/2 cup all
purpose flour
1 egg
1 cup Panko (Japanese Bread crumbs)
Put tuna in seaweed sheet, cut avocado lengthwise and place next to tuna, squeeze lemon juice over avocado add spices and wrap, put in flour then transfer to egg mix and finished with panko.

Barbecue Sauce:

1 tbs scallions
2 tsp garlic
1 tbs ginger
1 tbs spice sauce (Sambal Olek)
1/2 cup soy
2 tbs sake (dry)
2 tbs sweet sake (Mirin)
1 tbs lemon juice
4 tbs sugar
1/2 tsp cornstarch mix all ingredients except cornstarch, boil for 3 minutes add cornstarch to desired consistency.

Presentation:

3 tbs olive oil
Sear tuna with olive oil on a low flame to desired consistency. First sear all sides then keep turning.
Slice tuna in 1/2 inch slices and serve with baby basmati rice or regular basmati rice add sauce and garnish.
Anthony Capetola studied business and economics before deciding to pursue a degree in law. He began as a Nassau County assistant DA in 1971, leaving two years later to pursue private practice. Not content to "just practice law," he opened a catering facility in 1977, which is now known as Carltun on the Sound. Capetola became more involved in the industry as opportunities continued to present themselves at every turn.
He has opened several restaurants, including the famed Carltun in Eisenhower Park. He also owned Temple Bar & Grill in Atlantic City's Caesar's Palace and Olio! at the MGM Grand, both of which he has since sold. In addition, Capetola, a March of Dimes Man of the Year, belongs to many professional and charitable organizations. Despite his many involvements, Capetola admits he would certainly open another eatery if the opportunity arose, potentially rendering himself the busiest (and most successful!) man alive.
Chef Rodrigo Bernal, a native of Colombia, brings to Palm Court a culinary expertise rooted in the South American traditions of hospitality. After graduating from the Sena Culinary School, he worked in four star hotels and opened his own catering business. In 1985, Bernal left Colombia for
Long Island, working in several North Shore restaurants before becoming Executive Chef at The Carltun upon its opening. From there, he oversaw the opening of each new Carltun restaurant, including Temple Bar & Grill and Olio!. Bernal approaches his cooking from multiple fronts as well. "I mix the flavors, emphasize presentation and the decoration of every plate," he says.
"I won't put out a meal that doesn't use all five senses."