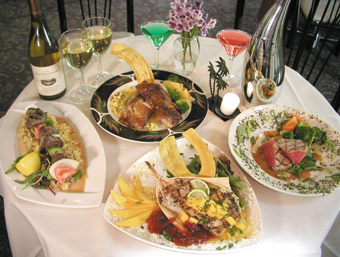 4 6-oz. snapper filets
2 TBS oil
1 diced mango
1 mashed garlic clove
1 finely diced small red onion
1 lime
1 seeded and diced tomato
1/2 tsp cumin
1/2 tsp chili powder
1/2 cup white wine
salt t.t.
pepper t.t.

Heat a skillet on medium high.
Sprinkle snapper filets with salt and pepper.
Drizzle hot pan with oil and saute snapper until golden brown (approximately two minutes on each side).
Add white wine to pan, turn off heat and cover for five minutes.

In a work bowl, juice and zest lime, then add mango, garlic, red onion, tomato, cumin and chili powder.
Toss ingredients, then top each snapper filet with mixture and pour over remaining juice.
Jeanine DiMenna began her culinary career collecting golf balls. At age 14, she worked at a driving range, chatting with friends in front of Tiffany House, the course's restaurant, at the end of each shift. Tired of chasing her away, owner Charlie Santos hired DiMenna to wash dishes. Before long, she was chef at Tiffany. Though she longed to attend culinary school, DiMenna struggled with learning disabilities while growing up and did not want to contend with the theory-based education a school like the CIA would provide. She found the Culinary Arts program at New York Tech, completing their experiential curriculum based in developing practical skills. After 11 years at the Harrison House, DiMenna missed the small restaurant environment. She discovered Page One in 1997, where she went from assistant to executive chef within a year. Now co-owner with Kevin Kimmel and Peter Antonopoulos, DiMenna has won awards and acclaim for her perfectly prepared eclectic cuisine, overcoming every obstacle to bring love and success to everything she does.
Kevin Kimmel, co-owner and chef at Page One, met Jeanine DiMenna when they worked together at the Harrison House. Though they went their separate ways, Kimmel wound up as food and beverage director of the Regency, literally next door
to DiMenna's Page One. As DiMenna's partner was preparing to retire, they offered Kimmel a position, which he eagerly accepted. The American Eclectic cooking style he brought with him evolved from several aspects of his life, beginning with his
training at the CIA. While there, Kimmel worked at Mirabelle in St. James, developing a strong background in French cooking. He melds this grounding in traditional technique with Asian influences culled from military experience in Japan and the Phillipines as well as with the popular 1980's southwestern cooking trend, creating an eclectic palate noteworthy enough for 'page one.'