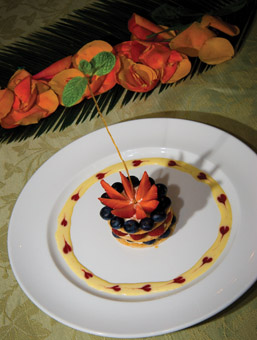 Palm Court
PALM COURT at The Carltun Eisenhower Park EAST MEADOW
Web:
www.thecarltun.com
Phone:
516-542-0700
Phyllo Dough Cookies

3 sheets of phyllo
1/4 cup melted butter
2 tb sugar
Take 2 sheets of phyllo dough. Brush with butter.
Add a light coat of sugar on top of the butter.
Take the two sheets of phyllo dough and layer them one on top of the other with the buttered and sugared side facing up.
Take the third sheet of phyllo dough and place it on top of the other two sheets.
Cut the sheets of phyllo dough into 12 circles using a round cookie cutter and bake at 325 degrees for 4 minutes.
White Chocolate Pastry Cream
3/4 cup milk
3/4 cup heavy cream
1 oz sugar
1 egg
1 oz sugar
3/4 oz cornstarch
1 tsp vanilla extract
1 tb butter
1oz white chocolate
Combine milk cream and sugar in a medium saucepan.
Whisk together the egg and sugar in a medium bowl.
Add the milk, cream and cornstarch until well combined and whisk over medium heat until the pastry cream comes to a simmer and thickens.
Add butter and chocolate and let pastry cream cool to room temperature.

Creme Anglaise:

1/2 cup light cream
1/2 tsp vanilla extract
1 tb sugar
1 egg yolk
In a stainless steel bowl stir together the sugar and yolk until well blended.
Heat the cream just to the boiling point.
Remove from heat and whisk into the yolk mixture.
Gently heat the mixture to just below boiling.
Do not boil or the eggs will curdle.
Pour through the strainer and add vanilla extract.
Raspberry Coulis
1/4 cup raspberry jus
1 tsp sugar
Combine jus and sugar and bring to boil. Cool a room temperature.

Assembly:

Place the pastry crème in a pastry bag fitted with a medium size star tip.
Arrange a cookie on a dessert plate.
Pipe a layer of pastry crème onto the cookie then sprinkle generously with blueberries.
Top with another cookie and layer with pastry crème and raspberries.
Finish by topping with a cookie, light pastry crème, blueberries and strawberries.
Put the crème Anglaise around the plate and decorate with raspberry coulis.
Assemble 3 additional plates.

ENJOY!
A native of Colombia, Chef Rodrigo Bernal has extensive culinary experience steeped in the South American tradition of hospitality and friendly service.
He received his formal culinary education at the Sena Culinary School, of the National Institute of Hotel Management and Tourism, in Bogota, Colombia.
During his four-year program, he completed an apprenticeship at the four-star hotel, Tequemadama of Bogota. Upon finishing
his culinary education, he remained at the hotel for two years and became the Chef Garde Manger.
He then took a position as Garde Manger at the Bogota Plaza Hotel.
Chef Rodrigo eventually opened his own catering business in Bogota in 1984, challenging the standards of the time with new and exciting menus.

In 1985 Chef Bernal moved to Long Island, New York and worked in several restaurants throughout the North Shore community before joining the catering location Waterview Club (now known as Carltun on the Sound).
He created a new culinary image for the Sound delighting the North Shore with his creations.
When The Carltun opened its doors, Chef Rodrigo was tapped for the position of Executive Chef of the Palm Court Restaurant and Wine Cellar. In 1998, The Carltun asked Chef Rodrigo to oversee the opening of their new restaurant, Temple Bar & Grill in Atlantic City's Caesar's Palace.
In 2000 Chef Rodrigo was once again called upon to oversee the opening of a new Carltun property in Las Vegas – Olio! at the MGM Hotel & Casino where he created and developed new and exciting culinary delights.

In 2002 Chef was selected to join the team representing the United States at the Food Festival in Sylt, Germany.
Chef Rodrigo is frequently seen on Cablevision (Channel 12) News for his contribution to Cablevision's food programming.
Chef Rodrigo lectures and conducts cooking demonstrations for local groups and retail organizations. He also appeared on numerous shows for the Food Network including an appearance with Emeril.
In 2006 Chef Rodrigo explored the Tuscany region of Italy researching the local cuisine.
He encountered a "gold mine" of culinary adventures which he is currently recreating for the discerning palates of lucky clients of The Palm Court Restaurant and Wine Cellar as well as private events at The Carltun.