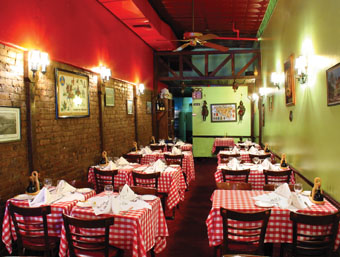 Carino
1710 2nd Ave.
(bet. 88th & 89th)

212-860-0566



Antipasto
Mozzarella & pomadoro - fresh homemade
with Sicilian oil & onions
Mamma's stuffed artichoke - stuffed
with bread crumbs, garlic, anchovy & parsley
Eggplant rollatine

Pasta
Pasta chi sarde - bucatini with fresh sardines, fennel, pine nuts & rasins
Risotto with porcini, secchi & fresh herbs
Linguini frutti di mare - mixed seafood
in a light tomato sauce
Manicotti - homemade pasta stuffed with ricotta cheese

Secondi Piatti
Pollo con carciofo - chicken with garlic,
artichokes & onions
Vitello della mamma - baked veal scallopini with fresh mixed vegetables, lightly breaded
Mamma's stuffed peppers - red peppers stuffed with rice, chopped meat, pecorino cheese, topped with marinara sauce
Scampi - shrimp sauteed with garlic & white wine
Spiedino di vitello - thin sliced veal rolled & filled with bread crumbs, onions, parsley, salami & cheese



Cuisine: Sicilian Italian
Avg. Check: $25 - $30
Attire: Casual Neat

Snuggle into this cozy neighborhood trattoria and devour an array of home-style Italian specialties. The checkered tablecloths and rustic feel evoke an old-world charm. The adjacent bar (where food is also served) caters to a hip crowd.

Mama Carino, who just celebrated her 90th birthday, the first of her family to come here from Palermo over 50 years ago, can still be found in the kitchen. Carino's menu extends beyond the most commonly found trattoria selections, with dishes like chicken soup with veal meatballs, pasta with carrots, and the hard-to-find Sicilian pasta con sarde. The Zagat Surrvey describes Carino as a "warm, familylike setting (down to the checkered tablecloths)...simple, affordable Southern Italian homecooking and the presence of iconic Mama Carino herself ensures this small Upper Eastsider remains a beloved neighborhood joint."

The Sicilian dishes prepared by Mama Carino set this restaruant apart from the others. House specials created by Mama include "Vitello della mama" - baked veal scallopini with fresh mixed vegetables, lightly breaded - and "Mama's stuffed peppers" - red peppers stuffed with rice, chopped meat, pecorino cheese, topped with marinara sauce.

The food is incomparable - gourmet, old-world Italian. The warm greeting and personal attention you get from Mama Carino makes dining at her restaurant a memorable experience. Whether you order from the menu or choose one of the specials of the day, you won't be disappointed at Carino's.
DINNER SPECIALS; PRIVATE ROOM; PRIVATE PARTIES; CATERING; TAKE-OUT

RESERVATIONS
Suggested

CREDIT CARDS
Amex, Visa, Mastercard, Diner's Club, Discover

HOURS
Dinner

Mon-Fri
5 - 11

Sat-Sun
5 - 11