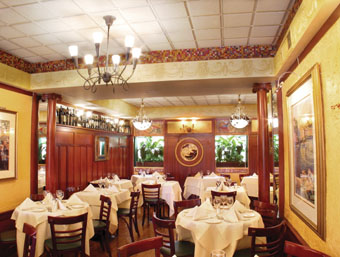 Due
1369 3rd Ave.
(bet. 79th & 80th)

212-772-3331



Antipasti
Fiori di Carciofi
Artichokes sauteed & baked in olive oil, garlic, parsley

Cozze Tarantina
Mussels in a tomato broth

Antipasto Italiano
Assorted Italian meats, fresh bufala mozzarella,
roasted peppers, parmigiano, & marinated artichokes

Crab Cakes
With fresh jumbo lump crab meat & zucchini

Paste
Gnocchi Verdi Aurora
Homemade spinach & potato dumplings with tomato, cream, asparagus

Rollatine Montanara
Homemade pasta stuffed with spinach,
porcini mushrooms, ricotta & parmigiano cheese

Fusilli Neri Nettuno
Black fusilli, zucchini, shrimp saffron & fresh tomato

Spaghetti del Pescatore
Marinara Sauce, New Zealand Clams, mussels, scallops, shrimp, & calimari

Secondi
Pollo Contadina
Bonless chicken & sausage sauteed with artichokes, white wine & garlic

Pollo Scarpariello
Chuncks of chicken sauteed with white wine, rosemary, garlic & lemon

Scaloppine di Bosco
Veal sauteed with white wine & mixed wild mushrooms

Salmone con Spinaci
Fillet of salmon grilled, served over spinach in mustard sauce



Cuisine: Northern Italian
Avg. Check: $30 - $35
Attire: Casual Neat

Due restaurant is a sure winner for anyone looking for superb food at reasonable prices. This cash only Northern Italian, which opened in 1988, is located on Third Avenue and achieves a quality found only in New York City's top Italian restaurants. The Tuscan inspired décor creates a warm atmosphere - romantic but not stuffy, welcoming but not overbearing. At the front of the dining room is the very popular outdoor dining area, where regulars can enjoy lunch, dinner, or a simple afternoon bottle of wine in the warmer spring and summer months. No matter where you sit at Due, you are sure to get lost in the atmosphere.

What makes Due stand out, however, is the casual ambience and relatively inexpensive menu that features some very original dishes. Chef Stefano Bosetti offers dishes such as Fiori di Carciofi, an appetizer of artichokes sautéed and baked in olive oil, garlic and parsley. As an entrée, be sure to sample the Rollatine Montanara - which is a homemade pasta stuffed with spinach, porcini mushrooms, ricotta and parmigiano cheese - a signiture dish and instant classic.

An up to date and extensive wine list features bottles from all over the world, with hard to find and interesting labels from many regions in the U.S., Europe, and Australia. There are 15 wines, both red and white, available by the glass each night as a sampling of the great list. As a result of the impressive wine selection, Due has received the Wine Spectator Award of Excellence for the last 4 years.

One thing is for sure - Due is too good not to come back to time and time again.
PRIVATE PARTIES, TAKE OUT; ON & OFF PREMISE CATERING; OUTDOOR DINING

RESERVATIONS
Suggested

CREDIT CARDS
Cash Only

HOURS
Lunch & Dinner
Sun. - Thu. 12 - 12
Fri. & Sat. 12 - 1