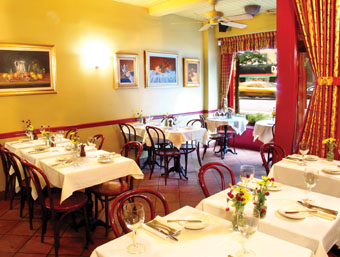 Cafe Du Pont
1038 1st Ave.
(bet. 56th & 57th)

212-223-1133
www.cafedupont.com



Appetizers
Pate de Campagne - classic country pate served with cornichons, petits toasts, & mesclun with a dijon vinaigrette
Duck Confit - preserved whole duck leg
with a sherry vinegar sauce on a lentil & vegetable ragout
Escargot in Puff Pastry - with sliced shallots & a brandy butter parsley cream sauce
Smoked Salmon & Potato Pancake Napoleon - with a horseradish cream sauce. Served with mesclun greens, chopped red onions, & capers
Apple, Endive, & Fig Salad - Belgian endive, toasted walnuts, julienne granny smith apples, dried Turkish figs & gorgonzola cheese tossed with a balsamic vinaigrette

Entrees
Beef Wellington - filet mignon & foie gras & mushroom duxelle in puff pastry with sauce bercy rouge
Steak au Poivre et Pommes Frites - black angus sirloin steak with a coarsely cracked pepper crust topped with a green & pink peppercorn brandy cream sauce
Oven Roasted Rack of Lamb Persillade with a Two Mustard Sauce - parsley crusted New Zealand baby rack of lamb with a dijon and pommery mustard sauce
Apple Cider Chicken with Figs - sauteed chicken breast with a caramelized apple and fig calvados cider compote
Coq au Vin - one half chicken marinated and braised in red wine with white button mushrooms and whole preserved shallots
Whole Roasted Maine Lobster - 1 3/4 lb. lobster infused with a champagne & saffron buerre blanc
Broiled Salmon Tournedos with a Honey Mustard Sauce - served with mashed potatoes and braised baby leeks



Cuisine: French Continental
Avg. Check: $35 - $40
Attire: Casual Neat

Cafe du Pont, an intimate cafe in Midtown East's tony Sutton Place neighborhood, serves upscale French continental cuisine in a casual setting. Over the past 11 years owners George Bodziony and Robert Wierzbinski have created a friendly atmosphere where guests dine expecting to see old friends sitting next to them. The mustard-colored walls with red trim, ceiling fans, and fresh flowers at every table evoke the spirit of a Parisian dining experience. The bay window with curved glass and impressive curtains provides an elegant shield between the quiet dining room and the bustle of First Avenue. Each evening the staff creates a romantic atmosphere of candle-light with quiet jazz and sensuous aromas in the background.

Executive Chef Johnny Espeland honed his skills at the world-famous Chanticleer in Nantucket under the chef-proprietor Jean-Charles Berruet. Johnny is a chef dedicated to the classics. His Beef Wellington, filet mignon with a foie gras and mushroom duxelle in puff pastry with sauce bercy rouge, is a traditional masterpiece. The whole roasted Maine Lobster, infused with a champagne and saffron buerre blanc and served with a wild mushroom risotto, is worth traveling cross-town for. The Apple Cider Chicken with Figs, sautéed chicken breast with a caramelized apple and fig calvados cider compote over brie mashed potatoes, has become the restaurant's
signature dish.

The eclectic wine list features over 100 wines from the United States, France, and other corners of the globe. Scotch aficionados have praised the collection of single-malts.

Cafe du Pont offers a relaxed, first-rate meal in a charming French-country setting.
PRIX FIXE EARLY DINNER; DAILY SPECIALS; WINE TASTINGS; TASTING DINNERS; PRIVATE PARTIES; TAKE OUT & DELIVERY; ON & OFF PREMISE CATERING; HANDICAP ACCESSIBLE

RESERVATIONS
Suggested

CREDIT CARDS
Amex, Visa, Mastercard, Diners Club, Discover

HOURS
Brunch
Sat. - Sun. 11:30 -4

Lunch
Mon. - Fri. 11:30 - 3

Dinner
Sun. - Thurs. 5 - 10
Fri. & Sat. 5 - 11