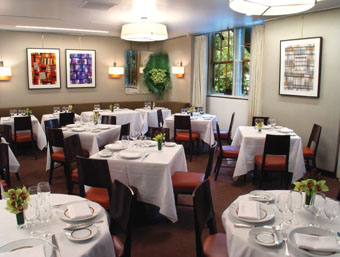 Cafe Boulud
20 East 76th St.
(bet. Mad. & 5th)

212-772-2600
www.danielnyc.com



La Tradition - french classics & country cooking
La salade de Veau et le Pissenlit - crispy veal tongue salad, dandelion greens, spiced lentils, mustard vinaigrette
Le Pâte de Canard et Foie Gras - country style pate
with foie gras & smoked duck, pickled cherries,
hazelnut-frisée salad
Le Saumon a'loseille - roasted wild king salmon, artichokes, sorrel sauce
Le Poulet Croustillant aux Herbes - cantal-herb crusted chicken breast, fingerling potatoes, fava beans, tarragon jus

La Saison - the rhythm of the seasons
Tasting of Summer Gazpachos - dozen vegetables, Maryland crab, lime ~ white almond, grapes & paprika - traditional with tomato, xeres & olive oil
Confit of Atlantic Halibut - zucchini, meadow mushrooms, bakers potatoes, green almond broth
Rhubarb-Glazed Long Island Duck - red swiss chard, quinoa, natural jus

Le Potager - vegetarian selections inspired
by the farmers market
Chilled Organic Carrot Soup - navel orange, lime, ginger cream
Roasted Beet Salad - pistachios, baby salads, goat cheese
Sweet Pea Ravioli - spring pea ragout, romaine, aged pecorino

Le Voyage - la cuisine du monde
Thai Style Shrimp Soup - lily bulb, glass noodles, shitake mushrooms
"Vietnamese" Steamed Black Bass - sticky rice, bay scallops, lime-coconut-ginger broth
Roasted Lamb Loin "Pindos" Style - grilled kebab, smoky eggplant, yogurt, agean flavors



Cuisine: French - American
Avg. Check: $50 - $55
Attire: Casual Neat

Café Boulud is a warm and welcoming French-American venue for Manhattan's café society. The restaurant, named for the local café Daniel Boulud's family ran on their farm outside Lyon at the turn of the century, offers a menu and ambiance combining the best of French food and design in a casually elegant style. In the four years since Café Boulud opened, Executive Chef Andrew Carmellini has earned three stars in The New York Times and has been named a James Beard Foundation "Rising Star Chef of the Year". He has also been named one of Food & Wine's "Best
New Chefs".

The menu at Café Boulud reflects Daniel Boulud's four muses: La Tradition, La Saison, Le Potager and Le Voyage. La Tradition highlights classic French dishes. La Saison features courses in harmony with the seasons. Le Potager, named for the French vegetable garden, offers vegetarian dishes. Le Voyage is inspired by Daniel's interpretation of various world cuisines.

The wine list includes vintages from every continent with over 450 selections arranged by grape variety. A special emphasis is placed on organically produced wines. Café Boloud also offers specially selected wines by the glass in harmony with the exotic flavors of the Voyage section of the menu.

The 95-seat restaurant is situated between Museum Mile and the fine art galleries and elegant boutiques of Madison Avenue, adjacent to the Surrey Hotel. The restaurant's decor evokes images of the cosmopolitan and sensual world of 1930's Paris and the fun, mysterious city frequented by writers and artists. Patrons may relax at the strikingly handsome bar or the sophisticated, clubby dining room, enveloped in plush cocoa colored upholstered banquettes and mahogany paneling, with gentle light emanating from rice paper and polished nickel sconces. In fine weather, the terrace tables on tree-lined East 76th Street are a favorite Upper East Side
dining spot.
OUTDOOR DINING; PRIVATE PARTIES; ON AND OFF PREMISE CATERING; FIXED PRICE MENUS; WINE TASTINGS; HANDICAP ACCESSIBLE

RESERVATIONS
Suggested

CREDIT CARDS
Amex, Visa, Mastercard, Diners Club, Discover

HOURS
Lunch
Tue. - Sat. 12 - 2:30

Dinner
7 Days 5:45 - 11