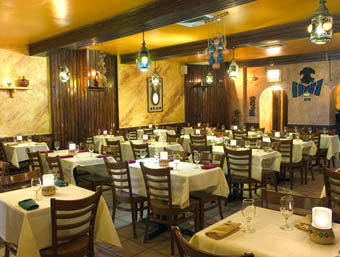 Cancun
937 8th Avenue
(bet. 55th & 56th)

212-307-7307
www.cancunnyc.com



Enchiladas Suizas - chicken & cheese sauteed in salsa verde, covered with sour cream
Fajitas Cancun - make your own fajita with sizzling chicken, beef or pork
Enchiladas Banderas
Red Snapper Cancun- fresh red snapper marinated with tomatoes, onions, & lime
Shrimp Salsa Verde
Bolados Especiales - shell steak wrapped in two flower tortillias with beans, onions, & sour cream
Mexican Steak - delicious shell steak with onions
Enchiladas Mole
Grilled Chicken Salad - crispy lettuce, sliced tomatoes, fresh mushrooms, olives, onions, red & green peppers, seasoned with our homemade dressing
Tacos al Carbon
Chimichanga
Mexican Kitchen Casserole - layers of fresh tortillias filled with chili, beans, cheese, onions, and spicy ground beef


Cuisine: Mexican
Avg. Check: $20-$25
Attire: Casual

If you are looking for good times and tasty Mexican cuisine, you have come to the right place. Cancun Restaurant has been one New York City's best since 1985. Cancun offers patrons a casual and festive atmosphere for you to come and enjoy a great meal at a great price. A warm welcome awaits you at the door, as many guests start their evenings with a cocktail in the "casa", designed with lovely archways, colored lanterns, and many other delightful accents.

The finest quality authentic Mexican food in the area is featured along side all the top-shelf spirits and cocktails you could desire. The menu includes a variety of standard Mexican fare - a distinct healthy mix of grilled American favorites and mouth-watering "Platos Del Mar" seafood choices.

Cancun Restaurant features a full bar with all the authentic liquors, cocktails and Margaritas. The warm colors of Cancun, whimsical artwork, and overhead TVs to watch your favorite sporting event makes it the best place to sip on a frozen exotic delight. Friendly service and great music makes the bar consistently popular with the after work and lunch crowds. Happy hour is served up Monday to Friday, from 4p.m. to 7p.m.

Just a few blocks away from the Theater District and the new Time Warner Center, Cancun will ensure each guest the finest in Mexican fare, in an atmosphere that is casual, and always a lot of fun.
PRIVATE PARTIES; BUSINESS LUNCHEONS; FULL BAR; DELIVERY; HAPPY HOUR

RESERVATIONS
Suggested

CREDIT CARDS
Amex, Mastercard, Visa, Diners Club

HOURS
Lunch & Dinner
Mon.-Thurs.
11:30a.m.-11:45p.m.

Fri. & Sat.
11:30a.m.-1a.m.

Sunday
11:30a.m.-11:30p.m.