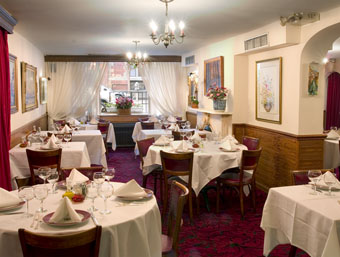 Marchi's
251 East 31st St.
(@2nd Ave.)

212-679-2494
www.marchirestaurant.com



The First Course
consists of platters of antipasto...celery, melon, radishes, finocchio (a delicious Italian winter celery), Genoa salami, and a Lorenzo salad created by Signor Lorenzo Marchi, consisting of tuna fish, olives, capers, chopped celery, parsley, and red cabbage.

The Second Course
is a steaming portion of lasagna, unlike any you have ever tasted. The pasta, of course, is homemade, and the sauce, made by Signor Lorenzo Marchi, is a family secret perfected only after many years of patient improvements.

The Third Course
served delectably crisp, deep-fried fish, which virtually melts in your mouth. Savory cold beets and string beans are prepared with a simple oil and vinegar dressing to accompany it. As in everything you'll taste at Marchi's Restaurant, the flavors are delicate and subtle. Each dish has just a hint of something unusual in the way of seasoning to tempt your palate.

The Fourth Course
consists of roast chicken and moist, tender slices of roast veal accompanied by a heaping platter of superbly cooked fresh mushrooms and a bowl of tossed salad.

The Fifth Course
is dessert. You will find your table laden with a bowl of fruit, consisting of peaches, bananas, oranges, pears, and apples so perfect you'll think that they came straight out of a still life picture. A delicious cheese will also be served to complement the fruit. For your sweet tooth, there is the Crema Fritta (a lemon fritter) and a spectacular mound of Crostoli, which is crisp, fragile, deep-fried twists sprinkled with powdered sugar and piled high on the platter in an arrangement that looks like a fairytale castle.



Cuisine: Northern Italian
Avg. Check: Price Fixed $48.75
Attire: Casual Neat

Yearn for a truly different restaurant? Then discover Marchi's Restaurant, a New York legend since 1930, where there is no sign outside and no menu inside!

Marchi's Restaurant is a family affair. From the very first moment you enter, you'll feel like a guest for dinner in the home of a family that takes pride in its heritage. Signor and Signora Marchi founded this charming restaurant more than 75 years ago. Their sons, Mario, John, and Robert and, Marioís wife Christine now carry on the tradition of this great restaurant.

Normally something you might hope to encounter abroad, one of the best kept secrets in New York is located on a charming tree-lined Murray Hill street, inside a handsomely kept brownstone. You'll know it by the vine-covered entrance and softly lit elegant Marchi coat of arms. Inside, the first two dining rooms retain the warm atmosphere of a private residence, while the third dining room is larger and suitable for private parties. The new outdoor garden, designed by John Marchi, is available for your dinning pleasure during the summer months and is a cozy "hideaway" for intimate dinner groups.

At Marchiís, you will not be provided with a menuóno decision, no problems! Instead you'll suddenly find set before you a FIVE COURSE tasting menu - a parade of the finest in home-cooked Italian fare - which is prepared by Chef Biondo Shabaz. There is an exceptional wine list, featuring over 85 bottles from Italy and the U.S. Marchiís is very selective with the wines they chose to serve, as no wine makes the list without passing through Marioís tasting process.

Tradition is the key to Marchiís success and popularity. It has remained as a truly marvelous New York City restaurant experience for generations, as diners continue to enjoy the wonderful home cooked Italian fare found only here.
PRIVATE PARTIES; PRIVATE ROOM; OUTDOOR DINING; PRICED FIXED DINNERS; HANDICAP ACCESSIBLE

RESERVATIONS
Suggested

CREDIT CARDS
Amex, Visa, Mastercard

HOURS
Dinner
Mon.-Sat.
5-10

Open Sundays
December-May