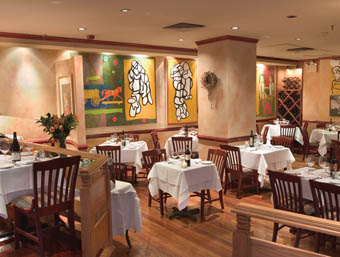 Il Sogno
222 E39th St.
(bet. 2nd & 3rd)

212-297-0280



Antipasti Freddi
Carpaccio di Salmone - marinated thin sliced Norwegian salmon served with frizze, pear, & gorgonzola

Antipasti Caldi
Funghi Trifollati con Goccio di Tartufo - sauteed mixed mushrooms with garlic, finished with a touch of truffle oil
Mellanzane alla Pizzaolla - Italian baby eggplant baked with tomato, oregano & garlic topped with melted mozzarella
Calamari alla Griglia - marinated& grilled baby squid

Il Pesce
Orata al Perno e Gamberi - Mediterranean sea brim sauteed with pernod, shrimps, & fresh tomato
Misto di Pesce all Griglia - grilled mixed fish of the day served over vegetables

Il Pollo
Pollo Lombardia - chicken breast sauteed with ehite wine & lemon, topped with asparagus

Il Carne
Scallopine Travizano - veal scallopine stuffed with prosciutto, fontina & dried porcini, sauteed with sherry wine & shiitake
Bisteca al Merlot - grilled shell steak with reduced merlot served with mixed vegetables

Le Paste
Cavateli alla Toscano - homemade pasta with sweet sausage ragu & canalini beans
Fuzzi Casalinga - penne with veal, chicken ragu & a touch of tomato
Ravioli Adriatico - stuffed with shrimps & scallopssauteed with clams, mussels & cherry tomatos



Cuisine: Italian
Avg. Check: $30-$35
Attire: Casual Neat

Il Sogno Ristorante sits just off a charming patio tucked away in the exclusive East Gate Hotel. The privacy of residential Murray Hill is mixed with the convenience of midtown Manhattan. Il Sogno, which means "the dream" in Italian, is a modern yet peaceful setting with close proximity to corporate offices, Grand Central Station, the United Nations and popular shopping locations.

An enticing menu focuses on both new and classic cuisine from the Tuscany and Campagna regions. Offering more than 1,200 different dishes throughout the year, Il Sogno is noted for specialties such as Sea Bass in Sea Salt Crust and Pan-Seared Langostine. A stunning Rissotto, prepared with truffles, is served along a parmesan cheese shell. There are an additional 12-14 specials served each night. The inviting space features warm, yet modern decor in a comfortable setting to suit any occasion. Bright works of art adorn the walls, as candle lit tables bring a romantic feel to each patron's evening. There is exceptional service by a knowledgeable wait staff that offer each diner the personal service that the restaurant is quickly becoming known for.

In the warmer summer months, diners enjoy a large open patio designed for elegant open-air dining that has seating for 100 guests. It is a perfect place to throw your next private party or corporate event.

Owner Jimmy Resulbegu opened Il Sogno over a year ago, and locals are already becoming regulars at what will surely become a New York City mainstay.
PRIVATE PARTIES; OUTDOOR DINING

RESERVATIONS
Requested

CREDIT CARDS
Amex, Visa, Mastercard, Diners Club

HOURS
Lunch
7 Days
Noon-3

Dinner
Sun.-Fri.
5-11