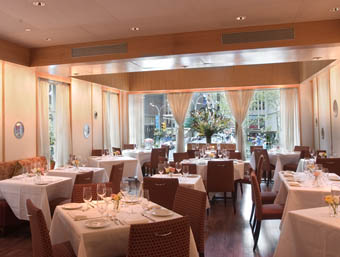 Joseph's
1240 Avenue of the Americas
(@49th Street)

212-332-1515
www.josephscitarella.com



APPETIZERS 
Autumn Squash Soup, spiced pumpkin seeds
Warm Goat Cheese, roasted beet salad, walnuts
Bouillabaisse, traditional Mediterranean
Zucchini Pesto Tart, chopped salad
Crab Cake, Maryland blue crab
Wellfleet Oysters 

PASTA 
Garganelli w/Fresh Tomato, basil, extra virgin olive oil
Seafood Pasta, fresh tagliatelle, shrimp, calamari, cockles
Gnocchi, ricotta gnocchi, sweet sausage
Risotto, wild mushrooms, truffle oil 

SEAFOOD
Maine Lobster, fall squash, brussel sprouts, chestnuts
Snapper, braised artichokes, basil
Loup De Mer, Basque style
Tuna, spinach, chick peas, chorizo
Whole Grilled Fish, -Branzino, -Pompano 

MEAT
Chicken, chanterelles, cipollini onions, baby carrots
Breast of Duck, glazed turnips, braising greens
Lamb, white bean, broccoli rabe, tomato-eggplant jam
New York Sirloin, roasted tomato, watercress 

DESSERT
Mascarpone Cheese Cake, sour cherry sorbet
Eskimo Pie & Devil Dog, butterscotch sauce
Vanilla Cake, 12 bean vanilla ice cream



Cuisine: Mediterranean American
Avg. Check: $45-$50
Attire: Casually Elegant

Amidst the skyscrapers of midtown Manhattan, in the heart of Rockefeller Center, is a turn-of-the-century townhouse where everyone from New Yorkers to visitors from around the world feast on the finest flavors of the marketplace prepared by acclaimed chef Bill Yosses. Named for owner Joe Gurrera, Josephs is a casually elegant restaurant where, against a sparkling city backdrop, diners can relax and enjoy a sumptuous Mediterranean American meal fresh from the market to their table.

The menu features mouthwatering selections like Venison Tenderloin; Ricotta Gnocchi with Sweet Fennel Sausage; Loup de Mer; Bouillabaisse; side dishes inspired by the farmer's market; and Yosses' award-winning desserts like Classic Vanilla, Chocolate or Raspberry Soufflé and Almond Praline-Peanut Tart. Clean and robust flavors emerge from Yosses' careful handling of the highest quality ingredients and inspired culinary creations.

The extensive wine list offers over 200 bottles and an eclectic collection of wines-by-the-glass from the New and Old World, as well as a varied selection of beer and sake. After-dinner drinks include classic and contemporary sweet wines, port, cognac, Madeira, grappa and calvados.

Inside this townhouse gem, every aesthetic detail is designed to evoke warmth and welcome. On the chic first floor lounge, guests can nibble on irresistible appetizers and sip signature cocktails and fine wines, surrounded by warm African Wenge wood and deep blue mohair fabrics. The second and third floor dining rooms feature opalescent walls of glass beads, aquatic portholes showcasing seashells of every color, shape and size and coral-inspired fabrics. On the fourth floor, private party guests are greeted by inviting, richly colored rust and gold hand-woven padded silk "scales" that line the walls with a balcony for pre-dinner cocktails.

Located just a short stroll from Central Park, around the corner from Radio City Music Hall, near the Theater District and in close proximity to glamorous boutiques, Josephs is a favored destination for lunch, dinner and cocktails.
PRIVATE PARTIES; PRIVATE ROOMS; WINE TASTINGS; CATERING; TASTING DINNERS; HANDICAP ACCESSIBLE

RESERVATIONS
Recommended

CREDIT CARDS
Amex, Visa, Mastercard, Diner's Club, Discover

HOURS
Lunch
Mon.-Fri.
11:30-2:30

Dinner
Mon.-Fri.
5:30–11
Saturday 5-11

Closed Sundays

Lounge Open 11:30am