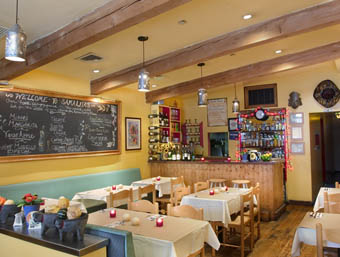 Samalitas
1429 3rd Ave.
(bet 80th & 81st)

212-737-5070
www.samalitas.com



Appetizers
Chiles Relleños creamy cheese or tomato - epazote sauce
California cheese and avocado Tostada -Tinga or Picadillo
Original cheese Quesadilla - spinach & mushroom,
Picadillo or chorizo con papas

Salads
Mexicana Salad - lettuce, tomatoes, avocado, char-grilled corn mix, spinach, broccoli & lime herb or light blue cheese dressing

Burritos
California Style - lettuce, cheese, guacamole; choice of refried beans, tinga, picadillo, or grilled chicken, beef or
shrimp
The Wrap - lots of vegetables, grilled corn & hominy, salsa, scallions, guacamole, and your choice of black beans, picadillo, tinga, grilled chicken, beef or shrimp

Sizzling Fajitas
Fajita - onions, red & green peppers, broccoli and tomatoes with mushrooms and spinach, choice of chicken, beef, shrimp or salmon

Mexican Dishes
Enchiladas - baked soft corn tortillas and cheese; choice of verde sauce, chili gravy, or mole with vegetables, chicken, shrimp or beef
Chiles Relleños - two lightly battered Poblano chiles filled with Jack cheese, topped with tomato-epazote sauce
Tamales de Rajas - two corn husks filled with steamed cornmeal, mild peppers, onions & chicken. With chili gravy or mole sauce

Taco Platters
Vera Cruz style - grilled onions, mild chiles, cheese with chicken, beef, shrimp or salmon
Mexico City Style - onions, cilantro, lime. Choice of: chicken, beef, carnitas



Cuisine: California-Mexican
Avg. Check: $15-$20
Attire: Casual

Welcome to Samalita's of California, situated at a prime Upper East Side location. Join many the many neighborhood locals that have discovered this eatery and come for a fine, authentic meal. Fresh, home-made Californian and Mexican dishes are prepared, as well as vegetarian and non-carbohydrate entrees. The full-service bar specializes in fresh fruit margaritas. Stop in to dine or call for a delivery. All of the food is fresh-cooked to order, ensuring the tastiest California-Mexican food in New York City.

Samalita was born and raised a fifth-generation Californian of Spanish-Mexican descent. Her ancestors traveled north from Monterey, Mexico in the De Anza party, settling in Monterey, California in 1775. When "Sam" moved to New York City, she found plenty of Tex-Mex restaurants, but not the wonderful Californian/Mexican food she grew up on. She missed her family's recipes, which had been passed down through the generations. After many years of cooking these recipes at home for her family and friends, she realized that no existing restaurant provided authentic, delicious, and healthy Mexican food at reasonable prices. Thus, Samalita, along with her son Andrew, created her own restaurant, where she could share this wonderfully fresh food with all of her New York friends.

This, in a taco shell, is how Samalita's of California was born. Sam and Andrew hope to see you soon!
PRIVATE PARTIES; OPEN-AIR DINING; HANDICAP ACCESSIBLE

RESERVATIONS
Suggested

CREDIT CARDS
Amex, Visa, Mastercard

HOURS
Lunch & Dinner
7 Days
Noon - 11:00pm