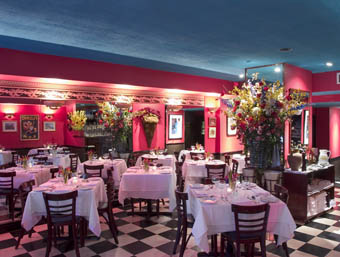 Raffaele
1055 1st Ave.
(@57th St.)

212-750-3232



Antipasti
Lumache con Shitaki - snails sauteed with shitaki mushrooms, leeks, & a light tomato sauce
Moscardini al Pomodoro - baby octopus sauteed with garlic, olive oil, & fresh tomatoes

Zuppe
Zuppa Di Lenticche - lentil soup with Italian rice

Insalate
Rugola e Fontina - arugola, fontina cheese, & sundried tomatoes

Paste
Linguine al Verzo - linguine with cabbage, sausage, italian bacon with a light tomato sauce & basil
Rigatoni Imbottiti - stuffed rigatoni with veal & mixed vegetables in a light pink tomato sauce
Tagliolini Neri - homemade squid ink noodles with scallops, shrimp, squid, roasted peppers & fresh tomatoes

Il Risotto
Risotto alle Punte di Asparagi - italian rice with fresh asparagus tips

Il Pollame
Pollo al Pompelmo - sauteed breast of chicken with raisins, spinach & a delicate grapefruit sauce

Le Carni
Scaloppina con Asparagi - medallions of veal with asparagus, porcini mushrooms in a light white wine sauce
Quaglia alla Moscovita - boneless quail sauteed in a cognac sauce with raisins, pignoli nuts, served with polenta & potatoes

Il Pesce
Gamberi della Sirena - jumbo shrimps sauteed with cognac, mustard & roasted peppers



Cuisine: Souther Italian, Mediterranean
Avg. Check: $35-$40
Attire: Casual Elegant

Raffaele is an intimate East Side restaurant located on 1st Avenue, and has long been a favorite of well known locals who like to stop off for southern Italian favorites on their way to Capri and the Amalfi Coast.

The dining room is painted Pompeii red and lava black, and 19th century prints of Vesuvius in various states of eruption hang from the walls. The warmth and privacy of Raffaele have attracted many neighborhood notables, that know that when they enter the restaurant, they will receive the personal attention to which they are accustomed, along with the authenticity of the original Neapolitan taste.

The taste that has become a trademark at Raffaele is the clean sun-inspired cuisine of Naples and Souther Italy. Using imported olive oils, pastas, and other fresh ingredients, Raffaele offers dished that delight with flavor, color and texture, without being too rich or filling. Pastas includeLinguine al Verzo, with cabbage, sausage, Italian bacon in a light tomato sauce, and Rigatoni Imbottiti - stuffed rigatoni with veal and mixed vegetables in a light pink tomato sauce.
The dessert variety is designed with flavor, not fat, in mind, and changes from week to week.

Raffaele's wine list is culled from the vineyards of Fruili, Tuscany, and the Veneto, with special Californian wines also available to compliment the tastes and textures of Neopolitan cuisine.

Raffaele includes an intimate private party room adjacent to the main dining area which can accommodate up to 30 guests.
PRIVATE PARTIES; PRIVATE ROOM; OFF-PREMISE CATERING; DELIVERY; WINE TASTINGS; HANDICAP ACCESSIBLE

RESERVATIONS
Suggested

CREDIT CARDS
Amex, Visa, Mastercard, Diners Club

HOURS
lunch
Mon.-Fri.
12-3
Dinner
Mon.-Sat.
5-11