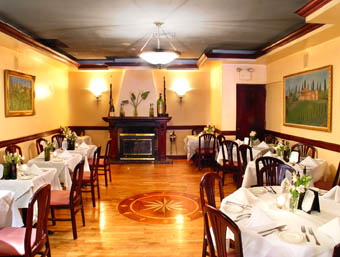 Notaro
635 2nd Ave
(bet. 34th & 35th)

212-686-3400
www.notaro.com



Caldo Antipasti
Portobella con peperoni arrostiti, zuchinni e mozzarella - Grilled portobella mushroom topped with roasted peppers, grilled zuchinni & melted mozzarella cheese

Antipasti di Mare
Le cozze al pomodoro leggero e cannellini
Fresh cultivated mussels with garlic, fresh tomatoes, basil, extra virgin olive oil & canellini beans
Calamari al Limone
sauteed squid in paprika, lemon & white wine

Insalata
Caprese
Homemade mozzarella, tomato and basil
Carpaccio Di Manzo
Slices of marinated raw beef with arrugala, parmesan & vinaigrette

Pasta Fatto a Casa
Fettuccine con Filetto Di Pollo
Homemade fettuccine with filet of chicken over dried tomato, asparagas and mixed mushrooms
Linguini di frumento primavera
Whole wheat linguini with fresh mix vegetables, garlic and extra virgin olive oil

Frutta di Mar
Caciucco Alla Toscana
A spicy Tuscan seafood combination, in a light fresh tomato sauce, served over linguini

Il Pollo
Bocconcino Di Pollo
Rolled breast of chicken filet with prosciutto and fontina cheese in a porobello sauce

La Carni
Scaloppine Al Carciofi. E Funghi
Veal sauteed with fresh artichokes and mushrooms in a sherry wine sauce
Madaglione di Manzo al Barolo
Best quality filet mignon medallions in Barolo wine, gorgonzola and mix mushrooms sauce
Costolleta del Agnello
New Zealand baby rack of lamb crusted with dijon mustard and broiled served in reduced cabernet wine sauce



Cuisine: Italian
Avg. Check: $25-$30
Attire: Casual Neat

Specializing in authentic Tuscan cuisine, Notaro restaurant offers a type of food found nowhere else. That's because Angelo Peralta, the restaurant's owner, grew up with this wonderful cuisine his entire life. His Tuscan tenure, combined with his experience as a chef, promises his customers a culinary compilation of cosmic proportions.

The interior of Notaro is woodsy and cool, every bit as relaxing as an authentic trattoria. Classical music plays softly as waiters dance about the restaurant with pepper mills and Parmesan; in the background, every so often a wine cork let free resounds with a lovely pop. Moreover, the kitchen is positioned downstairs, and while it makes for a busy staff with astounding aerobic health, it also reduces undue noise in the dining room, which is pleasantly quiet and romantic.

Notaro's cuisine is light, with it's signature sauces absent of cream and butter. The dishes are simple, and are made with only the freshest ingredients. Calamari al Limone - sauteed squid in paprika, lemon and white wine - and Carpaccio Di Manzo - slices of marinated raw beef with arrugala, Parmesan and vinaigrette are two of the popular appetizers served. All the pastas are made fresh on the premises. Fettuccine con Filetto Di Pollo, with a filet of chicken over dried tomato, asparagus and mixed mushrooms, and the Linguini di frumento primavera - whole wheat linguini with fresh mix vegetables, garlic and extra virgin olive oil - will never disappoint. For the last 8 years, Notaro has been leading the pack in Murry Hill, and has developed a devoted following that all diners should partake in.
PRIVATE PARTIES; CATERING; TASTING DINNERS; PRICED FIXED MENUS; PRE-THEATER MENU; DELIVERY; HANDICAP ACCESSIBLE

RESERVATIONS
Suggested

CREDIT CARDS
AMEX, Visa, Mastercard, Diners Club, Discover

HOURS
Lunch
Mon.-Fri.
12-4
Sat.-Sun.
1-4

Dinner
Sun.-Thurs.
4-11
Fri.-Sat.
4-11:30