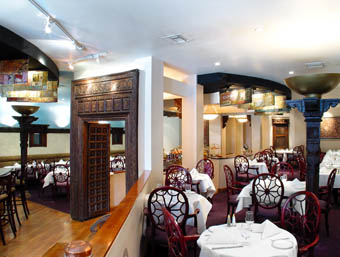 Sapphire
1845 Broadway
(bet 60th & 61st)

212-245-4444
www.sapphireny.com



APPETIZERS
Chicken Pakoras - Chicken Supremes marinated in a lightly spiced batter and crisp fried
Ragda Patties - Potato patties topped with peas, chutneys and yogurt
Samosas - Lightly spiced potatoes and peas wrapped in light pastry

FROM THE TANDOOR
Achar Murg Tikke - Boneless chicken marinated with pickling spices and yogurt
Ginger Chicken - Boneless chicken marinated in ginger, lemon juice and spices

CHICKEN
Chicken Hara Masala - Chicken cooked with fresh coriander, mint, green chilies and spices
Kerala Chicken - Chicken cooked with freshly ground black pepper, ginger, garlic onions and tomatoes

LAMB
Jardaloo Ma Gosht-Lamb with Apricots (Parsee Specialty) Lamb cooked with dry apricots and garnished straw potatoes
Lamb Chettinad - cubes of lamb with crushed black pepper, onions, tomatoes and curry leaves

SEAFOOD
Fish Tikka Jalfrezi - Tandoori salmon cubes stir-fried with onions, bell peppers and tomatoes

VEGETABLES
Dhigari Mutter - A combination of fresh mushrooms and green peas cooked with yogurt onions and tomatoes
Kadai Paneer - Home made cottage cheese cooked with bell peppers, onions, tomatoes and fresh ground spices



Cuisine: Regional Indian
Avg. Check: $25-$30
Attire: Casual Neat

Sapphire Indian Restaurant is celebrating it's 5th year. Adjacent to the new Jazz Center at the Time Warner Center, and close by to both the Theater District and Lincoln Center, this regional Indian masterpiece is the perfect spot to entertain and impress.

Sapphire has a pleasingly understated opulence, with ornately carved Mohgul-period wooden doors and windows, brought over from Rajastan, and embroidered panels of Jodhpur silk hung from the ceiling like small banners.

The decor of intricately hand-carved antique woodwork and collected art objects creates and exotic mood at Sapphire Indian Cuisine. Paneling divides the gracious space into cozy seating areas. The wide ranging menu provides a cook's tour of the distinctive regional cuisines of India, most notably the tropical specialties found in the fabled beach resort of Goa. The extensive menu includes the usual hit parade of samosas, curries, tandoori treats and even mulligatawny soup, but it also includes some sleepers like chutney idili, and small cake of steamed lentil and rice flour topped with coconut curry. Spicier and just as good as kadhi pakoda, another appetizer. Balls of cumin spiced lentil flour are deep-friend and served with a mustard-flavor yogurt sauce.

The wine list is unusually long for an Indian restaurant. What makes the dining experience even more special is that there is an experienced sommelier on hand to guide your choices.
PRIVATE PARTIES; PRIVATE SECTION; OFF-PREMISE CATERING; TASTING DINNERS; WINE TASTINGS; AFTER-THEATER MENU; DELIVERY; HANDICAP ACCESSIBLE

RESERVATIONS
Suggested

CREDIT CARDS
Amex, Visa, Mastercard, Diners Club, Discover

HOURS
Lunch
Mon.-Sat.
11:45-2:45

Dinner
Sun.-Thurs.
5-10:30
Fri.-Sat.
5-11