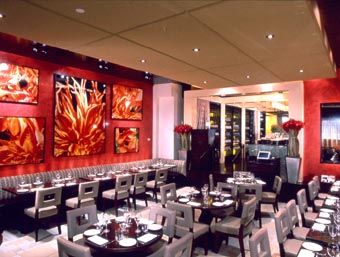 DB Bistro
55 West 44th St.
(bet. 5th & 6th)

212-391-2400
www.danielnyc.com



Homard

Lobster Bisque
with Tarragon Flan
Lobster Salad with Artichoke
Endive, Artichoke, Avocado, Mango
Almonds and a Curry Dressing

Thon

Tuna Tartare
with Celery, Peppercress
and Black Truffle Dressing
Grilled Yellowfin Tuna
with Baby Vegetables, Spinach
Meyer Lemon and Sauce Vierge

Roquette

Beet Salad
with Warm Goat Cheese
Duck Prosciutto
and Melfor Vinaigrette
Sautéed Skate
with Caramelized Salsify
Toasted Nuts, Baby Carrots
and Arugula Emulsion

Champignons

Escargots Fricassée
with Wild Mushrooms
Garlic-Parsley Coulis
and Quail Egg
Roasted Black Sea Bass
with Porcini Dumplings
Romaine Lettuce
and "Farmer's Market" Carrots

Volaille

Quail and Foie Gras Ballotine
with Morels, Green Asparagus
and Sicilian Pitachios
Chicken "Grand-Mère"
with Fingerling Potatoes, Bacon
Pearl Onions, Spinach
and Wild Mushroom

Specialitieés De La Maison

Daniel Boulud's Smoked Salmon
with "Grumberküechle"
Crème Fraîche and Frisée
DB Burger
Sirloin Burger filled
with Braised Short Ribs, Foie Gras
and Black Tuffles, Served on a Parmesan Bun with Pommes Soufflées or Pommes Frites



Cuisine: French-American Bistro
Avg. Check: $45-$50
Attire: Casual Neat

DB Bistro Moderne is a French-American bistro where the traditions of French cuisine meet the flavors of the American market with a menu reflecting the changing seasons and a focus on the simplicity of fine ingredients. DB is Daniel Boulud's interpretation of the new generation of Parisian bistros whose classically trained chefs offer creative cuisine in a casual, comfortable and contemporary setting. His New York rendition combines the youthful energy of his adopted city with the Gallic flair of the country he left behind. Located in midtown at the crossroads of fashion and theater, Daniel Boulud's latest restaurant promises dining that is as easy going and convivial as it is delicious.

DB is a contemporary reinterpretation of the traditional European bistro. The restaurant is comprised of two dining rooms linked by a paneled wine bar, which also connects the restaurant to the adjacent hotel lobby. The more casual front room features deep red-rubbed plaster walls, two-toned stone tile floor, and a Wenge wood-paneled ceiling. The room's focal point lies on the west wall, where the eye is drawn to a series of sensual, larger than life, floral photographs by Christopher Beane. They are reflected on the opposite wall by a series of oversized mirrors, framed in blackened steel. The modern chairs and tables are inspired by traditional African-carved wood forms. These intense forms and colors are intended to recall European modernism of the 1910's and 20's.

"Chef de Cuisine Olivier Muller has a talent for elevating humble foods to the level of succulent dishes" explains Daniel Boulud. "He combines traditional flavors with modern twists and occasionally lets the flavors of his native Alsace shine through." Just savor a forkful of Muller's tender frogs' legs on a bed of crisp spaetzle with a parsley emulsion and you'll see what Boulud means. Intense, sensual, larger-than-life, DB Bistro brings the traditional European bistro into the 21st century.
PRIVATE PARTIES; PRIVATE ROOMS; CATERING; COUNTER SEATING

RESERVATIONS
Required

CREDIT CARDS
AMEX, Visa, MasterCard, Diners Club

HOURS
Lunch
Mon., Tues., Thurs.- Sat.
12-2:30
Wed.
11:45-2:30

Dinner
Mon.
5:15-10
Tues.-Sat.
5:15-11
Sun.
5-10