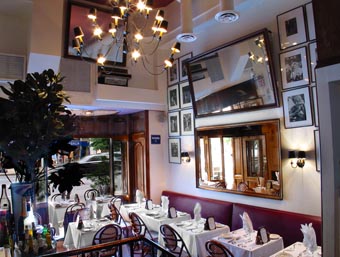 Bistro Du Nord
1312 Mad. Ave.
(@93rd)

212-289-0997



Hords D'Oeuvres
Soupe a L'Oignon Gratinee - onion soup
Tarte Tatin a La Tomate, Basilic et Mozzarella Fraiche - tomato tart tatin with basil & fresh mozzarella
Cassolette D'Escargots au Beurre D'Ail - snails with garlic, parsley butter

Les Salades
Salade "Bistro Du Nord" - arugula salad, sauteed shitake mushrooms, roasted pepper, parmesan
Salade De Chevre Chaud - warm coach farm goat cheese, sesame seeds & oven-roasted tomatoes

Les Viandes
Entrecote Grillee Aux 4 Poivres, Pommes-Frites - grilled, dry-aged New York sirloin steak with 4 peppercorn sauce, mashed potatoes & string beans
Traditionnel Tartare de Boef - traditional beef tartar with mesclun salad & home fries
Foie de Veau a L'Aigre Doux, Puree et Haricots Vert - sauteed calf liver in a sweet and sour sauce, mashed potatoes & string beans
Magret de Canard, Sauce Cassis et Pommes de Terre Douces Caramelisees - duck magret in cassis sauce served with caramelized shallots & honey sweet potatoes

Les Poissons
Moules Marinieres Au Sancerre, Frites Maison - steamed mussels with white sancerre, French fries
Steak de Saumon Poele, Petits Fenouils Caramalises et Haricoots Verts Fins - pan-seared salmon steak, caramelized baby fennel & French string beans
Filet de Cabillaud Roti Au Deux Moutardes, Puree a L'Huile de Noisette - roasted filet of codfish with 2 mustard sauce, hazellnut oil, mashed potatoes



Cuisine: French Bistro
Avg. Check: $30-$35
Attire: Casual Neat

Bistro du Nord has been pleasing it's patrons in Carnegie Hill for more than 13 years. Located on Madison Avenue along with many boutique stores and bookshops, this classic French Bistro caters to the civilized crowd that frequents the nearby museums - the Jewish Museum, the Guggenheim, and the Metropolitan Museum of Art are all within close walking distance.

The bi-level restaurant gives guests the option of dining overlooking the sidewalk, or in the cozy upstairs dining room. An oversized chandelier hangs from the high ceilings, as classic fashion prints adorn the walls.

Bistro du Nord prides itself on it's traditional French food, which is touched with modern flavors. Dry-aged New York sirloin steak with 4 peppercorn sauce and homemade French fries and steamed mussels with white sancerre and fresh herbs are two house specialties. Filet of codfish with a mustard sauce and hazelnut oil mashed potatoes is another signature dish. Nightly specials include new appetizers, fish, and meat selections, along with fresh desserts. Be sure not to forget the prix fix theater menu, which consists of three courses each night, and is one of the best deals in the neighborhood.

The wine list at Bistro du Nord is extensive and celebrates labels from all over the world, with a concentration on local French regions. There are eight varieties of whites and reds available by the glass each night, along with an impressive Champaign list, with selections available by the glass as well.

Book your next private party at Bistro du Nord, or come with a loved one to enjoy the first-rate French Bistro fare.
PRIVATE PARTIES; PRIVATE ROOM; PRICED FIXED DINNERS; HANDICAP ACCESSIBLE

RESERVATIONS
Suggested

CREDIT CARDS
Amex, Visa, Mastercard, Discover

HOURS
Lunch
Mon.-Fri.
11:30-3:30

Dinner
7 Days
5:00-10:30

Sat. & Sun. Brunch