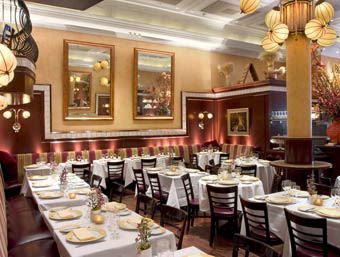 Payard
1032 Lexington Ave.
(bet. 73rd & 74th)

212-717-5252
www.payard.com



Appetizers
Beef Tenderloin Gravlax with Crudites Ribbon Salad, Parmesan Shavings, & Horseradish Cream

Potato "Tourte" Layered with Goats Milk Brie, Mushrooms, Carmalized Onions & Walnuts

Escargots "Provençal" with Baby Artichokes, Coco Beans, Niçoises Olives, Tomato Confit & Basil

Twice Baked Upside-Down Cheese Soufflé, Light Parmesan Cream Sauce & White Truffle Oil

Specialite de la Maison
Homemade Foie Gras Terrine with Pickled Pearl Onions & Toasted Country Bread

Entrees
Sauteed Barramundi, Curry Cauliflower Purée, Baby Bok Choy Honshimeji Mushrooms and a Caramel Tea Sauce

Alaskan Wild King Salmon with Sweet Carrot Purée, Sugar Snap Peas, Local Carrots in a Vegetable & Herb Nage

Traditional Bouillabaisse of Chilean Sea Bass,
Mussels, Clams & Squid

"Vermont Farms" Pheasant Duo: Roasted Breast & Leg Confit, Hokkaido Squash, Baby Brussels Sprouts, Black Trumpet Mushrooms, Fuji Apple & Sage

Roasted Venison with Juniper Berries, Green Savoy Cabbage, Spaetzle, Hedgehog Mushrooms & a Cranberry Sauce



Cuisine: Contemporary French
Avg. Check: $35 - $40
Attire: Casual Neat

François Payard, a third generation French Pastry Chef, was born in Nice, France. He cultivated his passion for the art of pastry as a child in his grandfather's renowned shop, Au Nid des Friandises, on the Riviera. In August of 1997 François' childhood dream of opening his own Pâtisserie & Bistro became a reality.

David Rockwell, the acclaimed restaurant architect, designed Payard Patisserie & Bistro. The restaurant evokes a feeling of familiarity, warmth and coziness. Imagine a long established neighborhood pastry shop on Paris' Left Bank. Witty and whimsical references to candies and pastries accent the space, including an over scaled plaster frieze with pastry motifs and a Roman mosaic floor border embedded with illustrations of dainty coffee cups. High ceilings and mahogany woodwork accentuates the open quality of the space. A cozy balustraded mezzanine overlooks the entire dining area.

The entire shop is divided into three distinct sections: the pastry shop, the dining area, and the mezzanine level. The curved coffee and liquor bar serves the morning, late afternoon and after dinner dessert crowds and is also available for lunch and dinner patrons. Its location physically separates the pastry shop from the dining room suggesting a coffee bar during the morning hours and a standing area/liquor bar and a place for a quick bite for lunch and dinner guests.

Philippe Bertineau, the Executive Chef at Payard, was named Best Unsung Chef in New York Magazine's 2001 Best of New York issue. He and François have worked together, developing a standard of quality, creativity and devotion for their trade, not to mention a mutual respect and friendship. Philippe continues to enchant guests with his contemporary Bistro fare.

Since Payard's conception François has continued to strive to innovate, perfect, educate and contribute his ideas and passion to the field of pastry. In 1998 he was acknowledged for this by being awarded "Pastry Chef of the Year" by the Bon Appétit Food & Entertainment Awards. Payard welcomes you to discover and delight in François' favorite confections reminiscent of his grandfather's days.
PRIVATE PARTIES; PRIVATE ROOM; TASTING MENUS; PRE-THEATER MENUS; WINE TASTINGS; ON & OFF PREMISE CATERING; HANDICAP ACCESSIBLE

RESERVATIONS
Suggested

CREDIT CARDS
Amex, Visa, Mastercard, Discover

HOURS
Lunch
Mon. - Sat. 12 - 3

Dinner
Mon. - Thurs.
5:45 - 10:30
Fri. & Sat.
5:45 - 11

Afternoon Tea
Mon. - Sat. 3:30 - 5