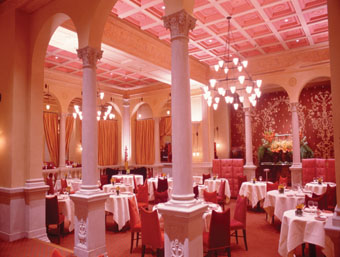 Daniel
60 East 65th St.
(bet. Park & Mad.)

212-288-0033
www.danielnyc.com



APPETIZERS
Chilled Charentais Melon Velouté with Carolina Shrimp, Opal Basil, Lemongrass & Kaffir Lime

Cold Curried Green Asparagus Soup with Sweet Red Pepper Chutney & a Crispy Crab Spring Roll

A Taste of Heirloom Tomatoes - Tomato Soup with Smoked Eggplant Basil & Peppered Goat Cheese Panini, "Tomate Confite" with Saffron, & a Tomato Salad with Ricota Salata & Black Olives

Gingered Lobster with Summer Carrots,
Sugar Snaps & a Pea Shoot Emulsion

MAIN COURSES
Roasted Skate with Arugula, Heirloom Tomatoes, Black Olives, Saffron Potatoes & Fennel-Tomato Emulsion

Bacon Wrapped Monkfish with Lobster, English Peas, Summer Potatoes "Pont Neuf" & a Savory Jus

Roasted Chicken "en Provençe" with Saffron Potatoes, Summer Vegetables, Black Olive Socca & Basil Salad

Pork Trio: "Frutta di Mustarda" Tenderloin,
Crisp Belly & Braised Cheeks Cassolette of Young Root Vegetables with Mustard Sabayon

Duo of Beef: Braised Short Ribs in Red Wine
with Green Garlic "Mousseline", Roasted Rib Eye with Shallots, Girolles & a Pepper Cress Salad

Roasted Rack of Lamb with a Lemon-Rosemary Crust, Grilled Radicchio, Honey Glazed Eggplant & Sweet Garlic "Panisses"

DESSERTS
Fruit
Duo of Apricot Tarts with Frangipane, Almond Ice Cream & Crisp Nougatine
Chocolate
Hot Chocolate Upside-Down Soufflé with Pistachio Ice Cream



Cuisine: French
Avg. Check: $88 - $100
Attire: Jacket & Tie Required

DANIEL, acclaimed by critics as one of New York's premier French restaurants, opened the doors to its grand new home in January 1999. Since that time it has received four stars from The New York Times, the Zagat Survey's top food and service ratings for New York City, Wine Spectator's "Grand Award" and Gourmet Magazine's coveted "Top Table". Guests savor Chef Daniel Boulud's renowned French cuisine in a Renaissance-inspired dining room and banquet room. The bar and lounge are welcoming spots for cocktails or after-dinner drinks. Here, the chef and his staff strive to offer elegant ambiance, gracious service, delectable foods and wines that epitomize "la grande restauration Française" in the heart of Manhattan's Upper East Side.

Each room at Daniel is accented with beautifully restored neo-classical details such as carved pilasters, balustrades and limestone finishes. Bronze-studded mahogany doors guide the eye toward 18-foot coffered and stenciled ceilings, offset by mahogany beams. Each room is suffused with a warm bouquet of burgundy, pale rose and soft yellow hues adorning the custom furnishings and richly textured fabrics.

The cuisine at DANIEL celebrates nature's bounty, taking each season's most glorious ingredients and revealing their delicious flavors. Daniel Boulud starts with respect for French culinary tradition and reinterprets it for the contemporary palate which keeps guests intrigued and delighted.

The wine list is composed of over 1,600 selections, including many rare Bordeaux and Burgundies. The wine cellar is filled with some of the finest and hard to find American red wines, superb Italian vintages, many privately produced wines, a broad choice of wines offered by the glass, as well as Chef Daniel Boulud's favorites from his native Rhône region.

Daniel Boulud and his staff look forward to welcoming food lovers from New York and around the world to restaurant DANIEL.
PRIVATE PARTIES; PRIVATE ROOMS; ON AND OFF PREMISE CATERING; FIXED PRICE MENUS; WINE TASTINGS; TASTING DINNERS; HANDICAP ACCESSIBLE

RESERVATIONS
Required

CREDIT CARDS
Amex, Visa, Mastercard, Diners Club, Discover

HOURS
Dinner
Mon. - Sat.
5:30 - 11