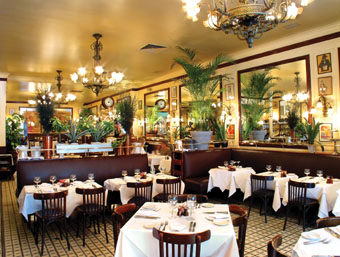 L'Absinthe
227 East 67 St.
(bet. 2nd & 3rd)

212-794-4950
www.labsinthe.com



L'ABSINTHE BRASSERIE CLASSICS
Timeless French Cuisine

Appetizers
Cervelas Poche aux Truffles et Pistache, Salade Tiede de Pomme de Terre - Homemade Poached Black Truffle Pistachios Garlic Sausage with Baby Gold Potato Salad

Main Courses
Poularde Truffee et Ses Legumes - Poached Free Range Chicken in a Black Truffle Broth & Vegetables
Sole Meunière - Classic Dover Sole Meunière
Choucroute Royale Alsacienne - Assorted Sausages, Pork Loin, Ham Hock, Sauerkraut
* * *

Appetizers
Lobster Salad & Heart Of Palm Salad, Marmalade Of Mango, Onion, Red Pepper & Coconut

Trio of Tomato Tartare, Tomato Sorbet, & Tomato Terrine

Fresh Grilled Sardine Tart, Tomatoes, Zucchinis, Onions, & Basil Pesto

Carpaccio of Wild Atlantic Salmon, Tuna Tartare,
Mustard Oil & Lemon Jus

Seafood Entrees
Broiled Halibut, Stuffed Lettuce with Sundried Tomatoes, Reduction of Mussel & Citrus Jus

Wild Stripe Bass, Miso Sauce, Crunchy Wheat Vermicelli & Black Trumpet Mushrooms

Meat Entrees
Pan Seared Veal Chops, Natural Jus, Corn,
& Black Trompette Barley Risotto

Duo of Rabbit Loin and Leg Cooked in Extra Virgin Olive Oil, Artichoke Barigoule, Tapenade, & Fava Beans

Roasted Rack of Lamb, Natural Jus - for one or two



Cuisine: Contemporary & Classic French
Avg. Check: $40 - $45
Attire: Casual Neat

For nearly 12 years, L'Absinthe has been impressing New Yorkers with its stimulating combination of both classic and contemporary French cuisine. Voted Top Brassiere by the the Zagat Survey in 2002, Executive Chef/owner Jean-Michel Bergougnoux and his staff have created an ambiance that one could only otherwise experience if they were dining in Paris. The French art-deco design, complete with chandeliers, framed mirrors, and candle-lit tables presents an inviting theme, which many Upper East Siders have fallen in love with.

Chef Bergougnoux honed his skills in Paris at top French restaurants Troisgros and Moulin De Monugins. Upon arriving in New York, he skyrocketed to the top of the scene as Head Chef at the legendary Lutece restaurant. An extensive menu, including old favorites such as Poularde Truffee et Ses Legumes - Poached Free Range Chicken in a Black Truffle Broth - is complimented by new creations like the Pan Seared Veal Chops - cooked in Natural Jus, Corn, and served with Black Trompette Barley Risotto. A sophisticated tasting menu gives guests the opportunity to enjoy the best of both worlds, as careful attention is paid to the ever-changing culinary and seasonal trends.

L'Absinthe, recipient of the Wine Spectator Award of Excellence, has a wine list that boasts over 300 bottles. While a large focus is on French labels, there are many more international alternatives from which to choose.

The always popular Sunday brunch offers three courses and unlimited dessert trolley. The restaurant is also proud to offer its services to anyone wishing to hold a private function. L'Absinthe has created an environment in which people feel comfortable, whether dining in the large open space, or the quaint outdoor café that is nestled on a quiet street off Second Avenue. Either way, there is no better way to replicate the Parisian dining experience.
TASTING DINNERS; WINE TASTINGS; TAKE OUT; PRIVATE PARTIES; ON & OFF PREMISE CATERING; OUTDOOR DINING; HANDICAP ACCESSIBLE

RESERVATIONS
Required

CREDIT CARDS
Amex, Visa, Mastercard

HOURS
Lunch
7 Days 12 - 3

Dinner
Mon. - Sat. 5:30 - 11
Sunday 5 - 10