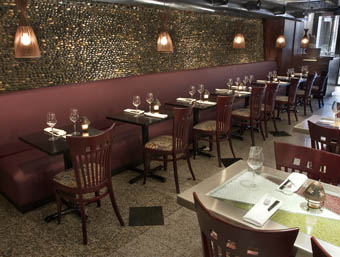 Pacific Echo
242 West 56th St.
(bet. 5th & 6th)

212-265-8988
www.pacificecho.net



APPETIZERS
TUNA PIZZA - with tomato salsa and black pepper aioli
NEW STYLE SALMON SASHIMI - with sherry apple vinaigrette

SOUP/SALAD
TOM YUM INFUSED PARSNIP SOUP - with blackened scallop
CORN AND EDAMAME SOUP - with snow crab, cappuccino style
TRIO SALAD - arugula, carrot confit, cherry tomatoes and edamame with creamy truffle and aged balsamic dressing PAN SEARED TUNA SALAD - seared tuna and baby greens on a bed of Maui onion dressing

CHEF SPECIAL ROLLS
THE BOMB - lobster tail tempura and crab, rolled with thin sliced cucumber and topped with spicy sauce
HOT MAMA - eel, scallop, crab, avocado and tempura flake wrapped in soy bean paper with spicy dipping sauce
WHITE MOUNTAIN - spicy tuna, avocado, wasabi tobiko rolled up with soy bean paper

ENTREES
STEAK CUBES - wok seared with garlic basil and plum sauce
TRIO STYLE ANGUS BEEF W/ SUSHI RICE CARBONARA - Teriyaki steak, braised beef and pan seared steak tartare with black bean aioli and saffron aioli
TOM YUM INFUSED SHRIMP - Thai style sweet and sour
CHILEAN SEABASS - Saikyo miso marinade, with wilted baby spinach and white asparagus
PAN SEARED SALMON & SHAVED BONITO CRUSTED SCALLOP - with creamy curry sauce and fresh eel glaze



Cuisine: Neo-Style Sushi, French Inluence
Avg. Check: $25-$30
Attire: Casual Neat

A gentle rock waterfall greats patrons as they enter Pacific Echo, a newly opened outpost on West 56th Street that serves up Neo-style Sushi and French influenced Asian dishes. Upon entering, patrons are whisked away to a serenity steps away from bustling mid-town Manhattan.

Whicker lamps hang freely over the tables in the lower level of this two story space, and a hip vibe is created through ambient music and a sleekly dressed wait staff. A full bar awaits guests towards the back of the main dining room, where a small but carefully chosen sake list and an array of specialty drinks make an appearance.

Executive Chef Anan Tiwadom, a native of Malaysia, brings to this kitchen his experience working at the Four Seasons Hotel in Singapore. The sushi is made and prepared in a contemporary style, but different types of sauces accompany the fish, rather than the same old soy sauce found at most Japanese restaurants in town. Emphasis is placed on taste, smell, texture, and visual senses, as Chef Tiwadom melts down the different Asian flavors with French culinary artistry. It is clearly evident why the Chef was awarded the South East Asian award for Visual presentation.

Perfect for the power lunch set due to its close proximity to many top law firms and record labels, Pacific Echo can also claim its stake as a romantic spot, as the lights are turned down low during dinner time, and a faint candle flickers on each table.
PRIVATE PARTIES; PRIVATE ROOM; OFF-PREMISE CATERING; TASTING DINNERS; WINE TASTINGS; PRE-THEATER MENU; DELIVERY; HANDICAP ACCESSIBLE

RESERVATIONS
Suggested

CREDIT CARDS
Amex, Visa, Mastercard, Diners Club, Discover

HOURS
Lunch
Mon.-Fri.
11:30-4

Dinner
Mon.-Thurs.
4-10:30
Fri. & Sat.
4-11:30

Sunday
12:30-10