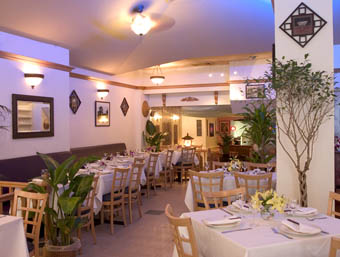 A-Mix 1
120 E34 St
(bet. Park & Lex)

212-686-8866



Soup S3 Wonton - seafood wonton soup made with shrimp, seabass & scallion Appetizers Spring Roll - Vietnamese spring roll made with srimp, pork & mushrooms Coconut Shrimp - served with honey mustard peanut sauce Sammy's Seafood Stuff - with shrimp, scallop, crab meat baked on shell Sauteed Monkfish - Vietnamese style with lemongrass, fresh herbs, & peanuts A-Mix 1 Skewer - shrimp, beef, chicken, vegetable, Asian fish ball, bacon, asparagus with teriyaki sauce Main Course Saigon Red Snapper - Vietnamese crispy-seared whole red snapper with a light, spicy & sour sauce Chang Mai Sea Bass - seamed Chilean sea bass with tofu, mushroom, scallion, ginger & cellophane noodle A-Mix Duck Breast - pan-seared duck breast with sauteed broccoli, baby corn, onion, sweet pepper & ginger honey sauce Cari Tom - sauteed jumbo shrimp with eggplant, okra and Vietnamese curry coconut sauce Asian Steak - Asian style beef steak with Thai noodles, sweet peppers, onion & crushed black pepper sauce Pineapple Fried Rice - shrimp, vegetable, pineapple, peanut, scallion, bean sprout & eggs



Cuisine: Asian Fusion
Avg. Check: $20-25
Attire: Casual Neat

A-Mix 1 is the newest addition to young and trendy Murray Hill. The restaurant combines the most popular dishes from Vietnam, Thailand, and Malaysia into the menu. Customers have been arriving from all parts of the city to experience the vast array of flavors and tastes. With a comfortable and relaxing interior, and a sexy downstairs lounge, A-Mix 1 is the perfect setting couples, lovers on a first date, or a dinner party with close friends.

Chef Sammy Chan, a native of Hong Kong, has been working in Manhattan for 18 years. He has designed a menu that is rich in innovative cuisine. All the dishes that the Chef prepares have had a personal influence on his life. "The A-mix Skewer brings back memories of my old village. I hope everyone that tastes it can feel like I once did", he says. The Saigon Red Snapper is prepared with the light and spicy sour sauce. It is truly an Asian experience! The Sticky Rice prepared in a Vietnamese style, with mushrooms is a signature dish that must be tried.

There is reduced rate parking adjacent to the restaurant. The staff at A-Mix 1 prides itself on serving every customer like they were family. Each patron feels comfortable when they arrive and when they leave, making this a truly pleasurable dining experience.
PRIVATE PARTIES; PRIVATE ROOM; OFF-PREMISE CATERING; PRE-THEATER MENU; DELIVERY; OUTDOOR DNING; HANDICAP ACCESSIBLE

RESERVATIONS
Suggested

CREDIT CARDS
Amex, Visa, Mastercard, Discover

HOURS
Lunch
7 Days
11-4

Dinner
7 Days
5-11:30