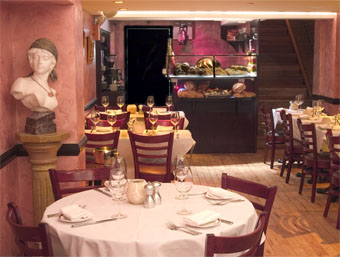 Re Sette
7 West 45th St.
(bet. 5th & 6th)

212-221-7530
www.resette.com



GLI ANTIPASTI
BOCCONCINI DEL FORNAIO
BAKED IN OUR BRICK OVEN, FRESH MOZZARELLA WRAPPED WITH SAN DANIELLE PROSCIUTTO, ROASTED PEPPERS, BASIL WITH ARUGULA PESTO

LA REGINA TORTINA
GRILLED RISOTTO CAKE, VEAL RAGU SAUCE

CALAMARI DEL TRONO
SAUTEED CALAMARI, IMPORTED ITALIAN OLIVES, ROASTED TOMATOES, CHARDONNAY WINE, GARLIC OIL SAUCE

LE INSALATE
RESETTE
ASSORTED BABY GREENS, TOMATOES, CARAMELIZED ONIONS, SUNDRIED CRANBERRIES, CANDIED PECANS & GORGONZOLA CHEESE, SHERRY WINE VINAIGRETTE

ASTICE FREDDO
FRESH LOBSTER, BABY ORGANIC GREENS, TOASTED PISTACHIOS, MANGO SLICED BEETS, LEMON DRESSING

PIZZE
YAGUR
FRESH TOMATO ,PEPPEROCINE, FRESH MOZZARELLA
DEL RE
FIG JAM, PROSCUITTO, CARAMELIZED PEARL ONIONS, GORGONZOLA CHEESE

LE GRAN PASTE
PENNE DELLATORRE
PENNE PASTA, BABY EGGPLANT & FRESH MOZZARELLA, TOMATO & BASIL SAUCE, ROASTED RICOTTA SALATA

FETUCCINI CON CAPESANTE
HOMEMADE FETTUCCINI PASTA, SHRIMP, SCALLOPS, ARUGULA, ROASTED TOMATOES, SHERRY LEMON SAUCE

CAPELLI D'ANGELO ARAGOSTINA
ANGEL HAIR PASTA, FRESH LOBSTER MEAT, FRESH TOMATO, LIGHT SEAFOOD SAUCE

I PIATTI REGALI
IL MAIALINO UBRIACO
BABY PORK LOINS, WITH MASHED POTATOES, RAISINS, GRAPPA & CRANBERRY SAUCE
IL BRANZINO DEL RE
CHILEAN SEA BASS, PORTOBELLO MUSHROOM, FRIED LEEKS, LENTIL, LEMON WHITE WINE SAUCE
LE COSTINE D' AGNELLO
BRICK OVEN ROASTED RACK OF LAMB OVER BROCCOLI RABE



Cuisine: Italian, Barese Region
Avg. Check: $40-$45
Attire: Casual Neat

A royal feast awaits you at Re Sette, a Gothic-inspired dining experience in New York City. Re Sette rouses the warmth and revelry of feasting at the king's table, transporting guests to another era with exquisite design and elegant, yet rustic Southern Italian cuisine.
Downstairs, the 1,800-square-foot restaurant offers seating in an intimate dining room, lounge and bar. Upon entering, a long mahogany bar features an expansive menu of grappas (perhaps the largest selection in the city), the favored drink of Italian kings. The design's regal influences are seen throughout and conjure an opulent time: jewel-toned tapestry-covered chairs, dimly lit ornate candelabras and deep Naugahyde banquettes against brick red textured walls.

In the upstairs dining room, which is surrounded by warm candlelight and sterling bowls overflowing with fruits, guests will delight in a communal banquet - a 32-foot "King's Table" that seats up to 50 guests - perfect for private occasions or for feasting with new friends. The king's table stands beside a fireplace and offers a view to the restaurant and lounge below. Near the table and locked behind an ornate brass iron gate is Re Sette's extensive wine collection of more than 100 whites, reds, sparkling and ports.

Re Sette introduces executive chef Luis Gordillo and his mastery in the kitchen to New York City diners. Gordillo combines rustic Italian dishes with new world innovation for a menu brimming with hearty, fresh tastes. The focus of chef Gordillo's lair is a wood-burning brick oven, where he roasts everything from leg of lamb to pizzas with sweetened fig jam for intensified flavors.

At Re Sette, the power and intrigue of the Old World meet the taste and luxury of the new, bringing gothic cuisine to Gotham.
PRIVATE PARTIES; PRIVATE ROOM; TASTING DINNERS; PRICED FIXED DINNERS; WINE TASTINGS; HANDICAP ACCESSIBLE

RESERVATIONS
Suggested

CREDIT CARDS
Amex, Visa, Mastercard, Diner's Club, Discover

HOURS
Lunch
Mon.-Fri.
11:30-4

Dinner
7 Days
4-11:30