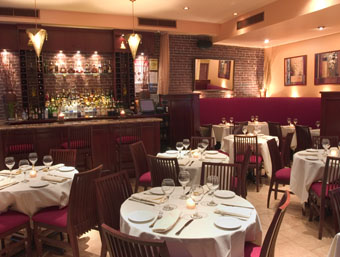 Reve
1347 2nd Ave.
(@71st St.)

212-288-5285



Appetizers
Kaboucha Squash Bisque - edamame & shrimp wonton
Crispy Fried Calamari - goma Wakame ginger sauce & wasabi cream
Maine Crab Cake - potato puree, braised cabbage & tomato coriander sauce
Asian Pear Endive Salad - bacon lardons, toasted sesame seeds, & goat cheese

Entree
Pan Roasted Chicken - roast quince, potato puree & baby brussel sprouts
Crispy Local Skate - gooseberry sauce, lemongrass & kaffir lime leaves
Ran Roasted Snapper - potato basil sauce, Kimchi vegetables & tamarind jus
Yellowfin Tuna - tempura tartare duet, wasabi cream & avocado mousse
Rosemary Gnocchi - chestnuts, pea sprouts, enoki mushrooms & fresh ricotta
NY State Venison - pan roast of asian pear, baby fennel & potatoes with juniper
Peking Duck - orange soy marinade, scallion pancake & chinese vegetables
Braised Lamb Shank - roast kaboucha squash, oyster mushrooms & soba noodles



Cuisine: French-Asian Fusion
Avg. Check: $35-$40
Attire: Casual Neat

Reve Restaurant is the upper east side's hottest newcomer. Featuring a menu created by Executive Chef Christina Kelly, Reve melds Asian culinary trends with French cooking techniques, creating a new and exciting experience for diners in the neighborhood.

The elegent selections include an array of original appetizers and entrees. Maine Crab Cake, with potato puree, braised cabbage and tomato coriander sauce is a wonderful way to start of the meal. The Asian Pear Endive Salad, which is a bit on the lighter side, is complete with bacon lardons, toasted sesame seeds, and goat cheese.

As a main course, diners have come to love the Pan Roasted Chicken - roast quince, potato puree and baby Brussel sprouts round out the dish. The Crispy Local Skate bathed in a gooseberry sauce, with lemongrass and kaffir lime leaves, as well as the Pan Roasted Snapper, with potato basil sauce, Kimchi vegetables and tamarind jus are two extremely popular choices as well.

Diners can eat outside during the warmer summer months, as Reve wraps itself around 71st Street for a taste of al fresco dining.

The wine selection is a fusion of the best of many regions. The collection of 80-90 bottles arrives from California, France, Australia and Chile. A list of specialty martini's and flavored sakes and mojitos make for a unique dining adventure on 2nd Avenue.
PRIVATE PARTIES; OFF-PREMISE CATERING; PRICE FIXED DINNERS; OUTDOOR DINING; HANDICAP ACCESSIBLE

RESERVATIONS
Suggested

CREDIT CARDS
Amex, Visa, Mastercard

HOURS
Lunch
12-3

Dinner
Sun.-Thurs.
5-11
Fri.-Sat.
5-Midnight

Sunday Brunch