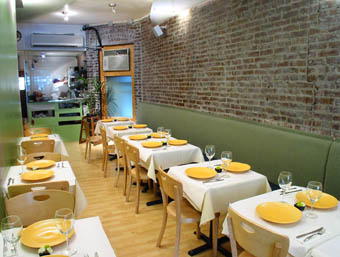 Quintessence West
566 Amsterdam Ave.
(bet. 87th & 88th)

212-501-9700

353 E78th St.
(bet. 1st & 2nd)

212-734-2629


263 E10th St.
(bet 1st Ave & Ave. A)

646-654-1823
www.raw-q.com



Appetizers
mini pizzette
a 4" kamut crust piled with a tangy nut based "cheese", fresh tomato, avocado, pesto sauce, & caramelized onion & sprinkled with gamasio

mediterranean nachos
a luscious mouthful of hummus, guacamole, & kalamata olives on crispy flax crackers topped with a drop of our house hot sauce

mini burrito
made with two crisp romaine lettuce leaves filled with our delicious "refried beans", cheddar "cheese", & guacamole, topped with fresh chopped tomato, onion & our tasty raw hot sauce

sesame sea salad
a nutritious blend of three kinds of delicious sea veggies with chunks of cucumber & tomato, topped with a rich, creamy, nutty & tart sesame dressing, & a sprinkle of sesame seed

Entrees
caribbean nut meatballs with island gravy
three delightful & flavorful balls of tropical spiced nutmeat, served with an aromatic, zesty pineapple-tomato gravy

round-the-world
mouth watering portions of indian mali kofta, middle eastern hummus & falafel, a japanese hand roll, live ravioli and a greek salad

nori rolls
delicious rolls of creamy sunflower seed pate, avocado, yam, seaweed, & sprouts served with the traditional wasabi, nama shoyu & mixed greens

sun burger
a hearty patty of sunflower & flax seed meal mixed with chopped celery, onion, red pepper, & herbs, dehydrated to a perfect burger texture and sandwiched between two slices of our homemade kamut (wheat) or pumpernickel rye essene bread

mali kofta
a popular Indian dish of flavorful vegetable balls made from sprouted chick peas & fresh vegetables, that are smothered in a creamy almond curry sauce over a bed of sprouted wild rice

spaghetti al pesto
a delicious plate of yellow squash "pasta" tossed with a traditional pesto sauce, sun-dried tomatoes, & marinated mushrooms & onions

Dessert
pecan pie
a live version is made with raw pecans, & fresh dates



Cuisine: Raw Foods
Avg. Check: $20-$30
Attire: Casual

Quintessence Restaurant offers its customers LifeFood - food for youth and beauty. It's raw vegan, organic, kosher cuisine that hasn't been heated above 118ºf. Chef/Owners Dan Hoyt and Tolentin Chan are only interested in bringing their customers the best, because they care to share with them just how great food can taste, and at the same time be so good for you. Dining at Quintessence will help you to eat your way to a healthier existence, which is why so many long time raw vegans find that they rarely get sick, experience greater mental clarity, and have a much more positive outlook on life.

The decor of Quintessence, which is the same at all their outlets, could be described as simple, good taste. White linen ceiling drapes, wooden tables and one exposed brick wall hint at the bare naturalness of it all, while predominantly white surroundings with a touch of green are what you might expect in a place so given to purity and freshness.

The menu presents a wide variety of choices. Swing by on the weekends to sample the now famous Lasagna - layers of zucchini and yellow squash sandwiched between sausage-spiced wheatmeal, Italian tomato sauce and creamy nut cheese.

Experience the radiant health and youthful rejuvenation that only LifeFood provides. Go Raw Vegan at Quintessence, where it's all about real food for real people. Quintessence would please a connoisseur of fine restaurants in general, but it especially delights the vegan and those who wonder if raw food can be as satisfying as cooked food. It can be.
PRIVATE PARTIES; OFF-PREMISE CATERING; PRICED FIXED DINNERS; COOKING CLASSES; DELIVERY

RESERVATIONS
Walk-in Only

CREDIT CARDS
Amex, Visa, Mastercard

HOURS
Lunch
11:30-3

Dinner
3-11

Saturday & Sunday Brunch