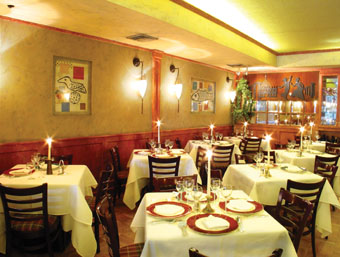 Sistina
1555 2nd Ave.
(bet. 80th & 81st)

212-861-7660



Antipasti
Delizia di mare al vapore
Warm seafood salad with fennel & sun dried tomato vinaigrette

Asparagi grigliati con salsa tartufata
Grilled asparagus with black truffle sauce

Carciofi con mozzarella, piselli, fave e con salsa di acciughe
Artichokes with mozzarella, peas, fava beans & anchovies sauce

Insalate
Rucola, pera, finocchio e parmigiano
Rucola, pear, fresh fennel & parmesean cheese

Paste
Tortelloni ripieni di carne con tartufo di Norcia
Stuffed with meat & black truffle sauce

Risotto con mele, noci, porcini e fontina
With apples, walnuts, mushrooms & fontina

Secondi Piatti
Orata con fagiolini e funghi al vino bianco
Sea bream with string beans, mushrooms & white wine

Coniglio brasato
Braised rabbit with wine & herbs

Scaloppine di vitello alla caprese
Veal scaloppine with mozzarella & oregano

Filetto di maiale all' agro dolce
Pork tenderloin with paprika, wine & citrus sauce

Fegato di vitello alla griglia con cipolla e polenta
Grilled calf liver with onion & polenta



Cuisine: Italian
Avg. Check: $40 - $45
Attire: Casual Neat

Sistina restaurant, one of the most highly rated Italian restaurants in New York City, has been impressing it's sophisticated clientele for over 20 years. Host/owner/chef Giuseppe Bruno, the Zagat Survey's "Host of the Year", is responsible for every aspect of his restaurant, from greeting his devoted patrons, to preparing special meals and dishes
upon request.

The attention to detail at Sistina, both in food and service, is unsurpassed on the East Side. Once guests enter through the wood facade on Second Avenue, they are witness to the romantic décor. Candles and flowers placed on white tablecloths, and the room, covered by a canvas ceiling, is highlighted by the Fortuna lamps and colorful prints that grace the walls. Cast iron wall hangings display the whimsical side of Giuseppe's taste, but accent his creative ability to make simple dishes taste like creative masterpieces. "Delizia di mare al vapore" - warm seafood salad with fennel and sun dried tomato vinaigrette - is one of the house specialties that showcases his abilities.

Winner of the Wine Spectator Award of Excellence for seven years running, Sistina boasts what may perhaps be the largest wine collection of any restaurant in New York. With a total of 55,000 bottles available to his guests, it is possible to find nearly any selection - whether it be sophisticated or simple - to go with your meal. Wines from all over the world are at hand, with a small sampling available by the glass
each night.

Voted "Restaurant of the Year, 2002" by the New Yorker magazine, Sistina is truly what the Zagat Survey has called "one of the city's unsung Italians".
TASTING DINERS; WINE TASTINGS; PRIVATE PARTIES; ON PREMISE CATERING; HANDICAP ACCESSIBLE

RESERVATIONS
Required

CREDIT CARDS
Amex, Visa, Mastercard, Diner's Club, Discover

HOURS
Lunch
7 Days 12 - 2:30

Dinner
7 Days 5 - 11:30