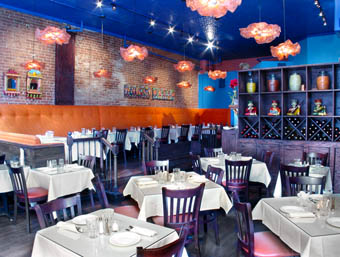 Tamarind
1679 3rd Ave.
(@94th)

212-410-9400
www.tamarindnyc.com



Appetizers
Papadom - crispy spicy lentil flour waffles
Bhel puri - chickpea noodles, diced potato, tomato & onions

From Our Clay Oven
Tikka Kebab - bonless chicken flavored with spices, barbequed on skewers
Ginger Lamb - marinated in yogurt with fresh ginger, broiled to taste

Vegetarian
Navrattan Korma - fresh mixed vegetables in nuts & mild spices
Saag Paneer - cubes of homemade cottage cheese & assorted vegetables

Chicken
Chicken Saag - boneless chicken simmered in cream spinach & fresh ginger
Chicken Korma - boneless chicken cooked in a creamy onion sauce with ground nuts

Seafood
Jumbo Shrimp Masala - sauteed with ginger & spices
Seafood Coconut - scallops, shrimp & calamari in coconut milk curry sauce
Meat
Lamb Vindaloo - boneless chunks of lamb cooked in a sharp & pungent curry sauce\
Goat Masala - simmered in creamed spinach with fresh ginger



Cuisine: Indian
Avg. Check: $20-$25
Attire: Casual

Tamarind Restaurant has arrived on the Upper East Side, becoming one of the most popular Indian restaurants in the neighborhood. Chef/owner Gyani is self-taught and has worked extensively with Flloyd Coraloz at Indian Café on the Upper West Side. Gyani takes great pride in the service that his guests receive, and goes to great lengths to make sure that each dish is prepared according to his high standards. An expert in regional Indian cuisine, the Chef has truly mastered his craft.

Appetizers include the popular Papadom - crispy spicy lentil flour waffles. There are a number of clay oven specialties such as the Ginger Lamb, which is marinated in yogurt with fresh ginger and broiled to taste. Vegetarian dishes like Navrattan Korma - fresh mixed vegetables in nuts & mild spices - are authentic and round out the very diversified menu that also includes many chicken and seafood selections as well. A complete dessert menu and wine list round out the enjoyable dining experience.

The atmosphere at Tamarind is vibrant, as the stark blue walls and ceilings meld beautifully with orange light fixtures that hang from above. Exposed brick walls and a display of Indian pottery give off an authentic vibe that whisks diners away. The staff is eager to educate patrons, and will often recommend dishes based on the customer's tastes.

An inviting atmosphere, delicious cuisine, and attentive service are what you will experience at Tamarind restaurant.
OFF PREMISE CATERING; DELIVERY; OUTDOOR DINING

RESERVATIONS
For 5 or more

CREDIT CARDS
Amex, Visa, Mastercard

HOURS
Lunch
12-4:30
Dinner
Sun.-Thurs.
4:30-11
Fri.&Sat.
4:30-12