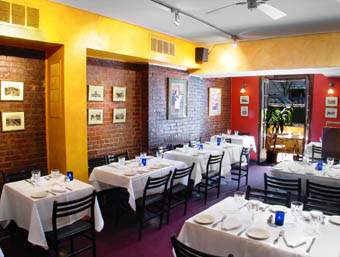 Metisse
239 West 105th St.
(bet. Amst.& Bway)

212-666-8825



Appetizers
Pate De Mousse Au Foie Gras - foie gras pate with cornichon-olive-walnuts salad
Ris De Veau, Sauce Beurre Blanc - sauteed sweetbread with beurre blanc sauce
Roulade de Fromage de Chevre et Jus D'arugula - goat cheese & potato roulade, green salad & arugula jus
Saucisse A L'Ail Grillee et Pomme de Terre Au Raifort - garlic sausage, sauteed potatoes & horse radish vinaigrette
Escargots Aux Beurre D'Ail - escargots with parsley and garlic butter
Crevettes Panee Sauce Condiment - breaded shrimp with lightly spicy dipping sauce

Entrees
Filet de Cabillaud et Ragout de Flageolet - sauteed codfish with white beans, spinach & tomatoes
Saumon en Croute de Graine de Sesame et Sauce D'Epinard - sauteed salmon with sesame seeds, orzo & spinach sauce
Filet de Bar aux Poireaux a la Creme - sauteed striped bass, stewed leeks, & steamed vegetables
Steak Frites - grilled sirloin steak, french fries & small salad
Filet Mignon Sauce Bordelaise - filet mignon with potato gnocchi, spinach & sauce bordelaise
Roti de Canard et Confit D'Oignons - roasted leg & breast of duck, garlic mashed potatoes, confit of onions



Cuisine: French
Avg. Check: $30-$35
Attire: Casual

Metisse Restaurant is a product of the dedication and hard work brought forth by its proprietor, Claude Waryniak, who for 12 years honed his skills working with Jean-Georges Vongerichten when he began his New York City career in 1986 at the Drake Hotel.

The bright earthy tones and exposed brick walls on display at this quaint and popular Upper West Side French eatery give way to an outdoor deck, sunken beneath the sidewalk on tree-lined W105th Street. In the warmer spring and summer months, diners can enjoy a peaceful meal at one of the four tables outside. Inside, white table cloths and classic prints on the walls present a relaxed elegance to diners.

Metisse has managed to maintain a strong following for more than 10 years in this location, as many local residents and Columbia University professors have come to appreciate the unique flavors that the restaurant has brought to the neighborhood. The ever popular Tuna Tar-Tar appetizer, prepared with chive oil, is served with potato gaufrette. As a main dish, regulars and newcomers alike have declared the Sesame Encrusted Salmon Filet, served with creamy spinach sauce and orzo pasta, as one of their favorites. For dessert, chocolate lovers must be sure to save room for the warm Verona chocolate cake, served a la mode, which begins to melt on your plate within moments of its arrival.

There is a small but selective wine list, which concentrates on French and American vintages. All are reasonably priced and serve as a welcomed compliment to the attentive service and exceptional food found here at Metisse.
PRIVATE PARTIES; PRICED FIXED DINNERS; OUTDOOR DINING

RESERVATIONS
Recommended

CREDIT CARDS
Visa, Mastercard, Discover

HOURS
Dinner
Mon.-Thurs. 5:30-10:30
Fri.-Sat. 5:30-11
Sun. 5:30-10