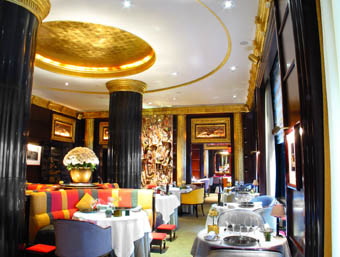 Alain Ducasse
155 West 58th St.
(Bet. 6th & 7th)

212-265-7300
www.alain-ducasse.com



ADNY Signature Dishes

Sea scallops marinated in extra virgin olive oil, tomato cocktail

Roasted halibut, shellfish, razor clams, almond butter "gratiné"

Spit-roasted rib eye of certified Black Angus, cèpes fricassee,
new potatoes, asparagus tips, jus Bercy

Baba, rum of your choice, Monte-Carlo style


ADNY Sample Tasting Menu

Amuse-bouche

Confit of fresh duck foie gras, apricot gelée

Green peas "à la française" with crayfish

Filet of black sea bass, cooked "à plat", clear Osetra caviar, Champagne sabayon

Organic farm-raised chicken, truffles under the skin, spring onion marmelade, jus Rossini

Cheese, perfectly matured



Cuisine: French Haute-Cuisine
Avg. Check: 3-course menu starts at $150
Attire: Jacket and Tie Required

In June 2000, Alain Ducasse, the internationally renowned chef of two Michelin three star restaurants in Paris and Monte-Carlo, opened his first American fine dining restaurant, Alain Ducasse at the Essex House. Since its opening, the restaurant received The New York Times 4-star review, Mobil Guide's 5-star Award and the AAA 5-Star Diamond Award.

Located on Central Park South, Alain Ducasse at the Essex House is the realization of Ducasse's vision to create an American showcase for the artistry of his food while using local produce. "The restaurant is the result of my long-time admiration for American products," explains Ducasse.

The menu, which changes according to the season, includes contemporary classics inspired by Ducasse's Parisian signature dishes, and some courses with Mediterranean influences reflecting his cuisine in Monaco. It also celebrates Executive Chef Christian Delouvrier's devotion to exquisite, simple ingredients and the culinary traditions of Southwest France. Additionally, a six-course tasting menu that incorporates different flavors and highlights the seasonal products is offered to the guests.

The Main Dining Room seats 75 guests, and is the very expression of the luxury of space and volume. Brazilian rosewood walls, decorated with "sculpture-paintings" by Arman, give the room a colorful aspect, while the picture windows open onto flower stairways forming an ephemeral garden. Two smaller dining areas offer a semi-private setting inside the Main Dining Room.

The Chef's Table or Aquarium offers an insider's view into the kitchen and allows up to 6 priviledged guests to savor dinner under a starry ceiling.

In Alain Ducasse's eyes, every guest is a 'star' and he insists on treating each and everyone as such. To maintain this level of excellence, Alain Ducasse relies heavily on strong teams in whom he has confidence; he gives the tempo and inspires the energy to continue his incessant quest for perfection.
PRIVATE PARTIES; PRIVATE ROOMS; TASTING MENUS

RESERVATIONS
Required

CREDIT CARDS
Amex, Visa, Mastercard, Diner's Club, Discover

HOURS
Dinner
Mon. to Sat.
6-9:00
(one seating per night

Private dining available for lunch and dinner