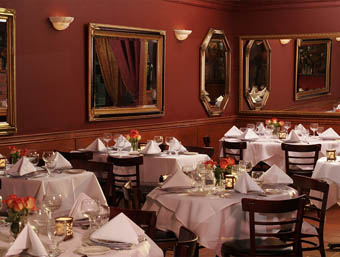 Paola's
245 East 84th St
(bet. 2nd & 3rd)

212-794-1890



Antipasti
Insalata di Mele - endive, apples, crumbled Gorgonzola
Insalata di Gamberetti alla Griglia Cannellini - beans & shrimp salad with basil & tomatoes

Primi Piatti
Trofie Genovesi - thraditional "trofie" pasta from Liguria, basil pesto, string beans & potatoes
Pappardelle al Ragu D'Anatra - flat broad noodles with braised duck ragu
Gnocchi di Ricotta - ricotta gnocchi, Faicco's chicken sausage, sage, fennel pollen & bread crumbs
Ravioli Toscani - chicken liver filled ravioli, brown butter & onion jam
Casunsei Beet & Ricotta Ravioli - tossed with butter, sage & poppy seeds

Secondi Piatti
Gamberi "Maya" alla Griglia - grilled shrimp, asparagus, pears & cherry tomatoes
Pollastrello al Mattone - roasted "all natural" Cornish Hen, grilled asparagus & oven roasted onions
Maile con Finocchiella - roasted port tenderloin, wilted braising greens, Borlotti beans & fennel pollen
Bistecca Speziata - spice rubbed skirt steak, sauteed broccoli rabe & cipollini onions
Anatra con Zucca - seared duck breast, squash, wild rice risotto, preserved lemon-onion emulsion



Cuisine: Northern & Central Italian
Avg. Check: $40 - $45
Attire: Jackets Optional

Romantic, personable, and authentic, Paola's restaurant is one of the Upper East Side's most beloved and respected eateries. With two dining rooms, the second lined with bottles of different vintages from the extensive wine list, soft lighting, and opera playing in the background, a calming sense overcomes patrons. There's an old upright mahogany piano that an enthusiastic guest might play on any given evening, painted dishes from Italy and vases of fresh flowers. The menus are a visual treat with their beautiful color and design, as are the old guilded framed mirrors.

A family operation, Paola will usually greet you at the front door. Immediatly head for the off-the-beaten-path pastas, made daily on the premises. A selection of cas-un-sei amp-ezz-ani, or beet and ricotta stuffed ravioli with butter, sage and poppy seeds is a winning choice. Pan-seared baby artichokes, Jewish-Roman style, are also lovely - and a seafood special of bass filets, vegetables, herbs and white wine, baked in parchment paper is a light alternative at Paola's.

Paola's Italian specialties include mixed baby greens with pears, walnuts and pecorino cheese, homemade warm mozzarella with tomatoes and basil, and pan-seared baby artichokes. The pastas that shine are ravioli stuffed with veal and chicken, and the daily risotto. The main courses that have won raves include the roasted "all natural" Cornish Hen served with grilled asparagus and oven roasted onions, as well as the
Maile con Finocchiella - roasted port tenderloin with wilted braising greens, Borlotti beans and fennel pollen. Visit Paola's and you'll get a place that cooks up creative, Italian cooking.
PRIVATE PARTIES; PRIVATE ROOM; OUTDOOR DINING; WINE TASTINGS; TASTING DINNERS; HANDICAP ACCESSIBLE

RESERVATIONS
Recommended

CREDIT CARDS
Amex, Visa, Mastercard

HOURS
Lunch
7 Days 12 - 4

Dinner
7 Days 5 - 11